Signal workers in 24-hour train strike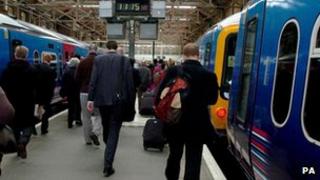 Signal workers are taking part in a 24-hour strike in the west of Scotland, with a second stoppage planned for March.
More than 30 staff based at a control centre in Glasgow were expected to walk out in a row over career progression.
The Rail Maritime and Transport (RMT) Union action follows a three-day strike over Christmas.
Further industrial action had been planned for January but was called off for Acas talks which then broke down.
The strike action began at 05:59 and will go on until 05:58 on Wednesday.
A further 24-hour stoppage is planned for Friday 2 March into Saturday 3 March.
The union claims Network Rail has "ripped up" long-standing arrangements.
RMT said the arrangements had allowed experienced staff to be "slotted" into a post when it became vacant.
Network Rail said "slotting" had not been commonplace since British Rail was privatised in 1994.
Services affected
It claimed the union would like to see posts filled on the basis of seniority, while Network Rail believes in appointing based on merit and suitability.
RMT general secretary Bob Crow said: "This morning's action is rock solid and despite all the empty promises from Network Rail has once again had a major impact on services.
"If Network Rail spent as much time resolving this dispute as they do promising passengers trains that never turn up we could negotiate a swift settlement."
He added: "RMT has tried to reach a negotiated settlement to this unilateral ripping-up of a local arrangement but unfortunately the management have refused to see sense and have failed to engage with us at all since the strike action over Christmas.
"RMT members will not stand by while management unilaterally rip-up agreements and practices that have been in place at local level for decades.
"As a consequence of management's continued intransigence we have no option but to go ahead with this further wave of strike action."
ScotRail said that as a result of the industrial action, services on six routes to and from Glasgow Central would be less frequent, or withdrawn, on Tuesday and a few early morning services would be affected on Wednesday.
A statement on the company's website said: "We will add carriages to trains to accommodate as many customers as possible, and will have more staff on hand to assist you.
"This action is beyond the control of ScotRail and we apologise for any inconvenience."