Craig Jamieson sentenced for second time for baby Abbie murder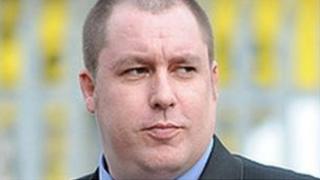 A father convicted for a second time of murdering his baby daughter was spared a stiffer jail-term because of an appeal court ruling.
Craig Jamieson, 32, was found guilty after a re-trial of killing four-month-old Abbie at a flat in Glasgow in February 2008.
Judge Lord Matthews sentenced him to a minimum of 15 years and one month.
He said he was bound by a 2010 Court of Appeal decision that prevented him imposing a lengthier sentence.
Jamieson's original conviction and 16-year minimum term were overturned due to the way the judge at the first trial gave legal directions to the jury.
At the High Court in Glasgow Lord Matthews sentenced him for a second time for what he called an "appalling offence" that resulted in "catastrophic" injuries.
He said he could not impose a longer sentence due to a decision in the case of another criminal convicted after a retrial where it was ordered he could not be given a harsher jail-term than he first received.
Head fractures
The original 16-year sentence was reduced due to the 11 months Jamieson had spent behind bars before his first conviction was quashed.
Jamieson, who claimed during the trial that he "loved" his daughter, smiled and waved at relatives as he was lead handcuffed to the cells.
The court heard how he attacked his daughter at his flat in the city's Dumbarton Road.
The baby suffered head fractures and massive abdominal injuries.
He had been left alone after Abbie's mother, Nichola Haddock, 31, had gone to university.
Experts said Abbie had been hit off a hard surface like a wall or worktop.
Jamieson, of the city's Knightswood, had denied murder and blamed his ex-partner, Ms Haddock, for their daughter's injuries.
In his closing speech to the jury at the re-trial, prosecutor Andrew Miller said Jamieson was responsible for the fatal injuries.
Mr Miller added: "It is time for him to take responsibility, finally, for the things that he did that morning.
"What motive can there be to inflict injuries on a four month old baby girl?"