Contract agreed for £1bn subsea power cable in Ayrshire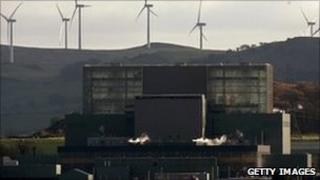 A £1bn contract has been agreed to lay a subsea power cable between Hunterston, in Ayrshire, and the Wirral peninsula, near Liverpool.
Scottish Power and National Grid have signed up for German technology firm Siemens and cable-maker Prysmian to lay the 420km line.
With a capacity of 2.2 GW, it will be the longest such underwater connector in the world.
The high voltage line is due to be operational in 2016.
National Grid director Nick Winser said: "This link will have a vital role of play in meeting both the country's energy needs and helping to address the problem of climate change.
"We are investing in an innovative solution, using the most advanced technology.
"As a result, the benefits for consumers and electricity generators in being able to transport power in the most efficient way will be felt for years to come."
'Additional capacity'
Work began on the project in 2009 and the line is intended to open up the potential for Scottish renewable energy by linking to consumers in England.
"The HVDC link is a major project in the context of a vital upgrading of the UK electricity grid over the coming years, with the electricity grid between Scotland and England already running close to maximum capacity," said chairman of Scottish Power Ignacio Galán.
"The additional capacity from this link will provide a significant boost to renewable energy projects that we are developing in Scotland in order to bring clean energy to consumers throughout the country and at the same time help meet carbon reduction targets."