Teenagers guilty of killing Christopher Knox in Greenock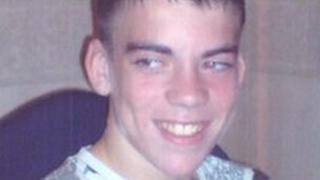 Two teenagers have been convicted of killing a 17-year-old schoolboy in a street attack.
John Paul McCowan, 17, was found guilty at the High Court in Glasgow of murdering Christopher Knox in Greenock last June.
His friend David Paton, also 17, was convicted of culpable homicide.
Three other teenagers had earlier pled guilty to reduced charges of assaulting Mr Knox after originally being charged with his murder.
The court heard Mr Knox was a witness in an assault and robbery case against Paton.
Paton believed that Mr Knox was a "grass" and was trying to intimidate him out of giving evidence in court.
Drinking cider
One of Paton's friends, 19-year-old Sean O'Neill, spotted Mr Knox drinking cider with some friends and phoned Paton, who arrived minutes later with a gang of people.
A fight broke out and McCowan plunged a knife into Mr Knox and left him dying in the street.
Paton never assaulted Christopher, but was found guilty of killing him on an art-and-part basis because the jury accepted he knew McCowan had a knife.
O'Neill, 19, Adam Johnston, 17, and David Rice, 18, all from Greenock pled guilty halfway through the trial to much reduced charges of assaulting Mr Knox.
Temporary judge Rita Rae QC will sentence all five next month, when defence lawyers will give their plea in mitigation. She detained McCowan, Paton and O'Neill in custody.
The court heard that McCowan found out on Facebook just hours after the stabbing that Mr Knox had died.
And he confessed to Johnston, saying: "I plunged him."
McCowan admitted from the outset that he had killed Christopher and pled guilty to culpable homicide, but had denied murdering him.
At the time of the killing McCowan was on bail and subject to a curfew order and Paton was on bail.