Irvine Royal Academy in Glasgow University partnership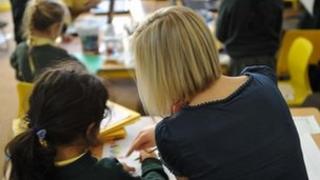 A new approach to the training of teachers has been introduced at a school in Ayrshire.
In a partnership between the University of Glasgow and Irvine Royal Academy, student teachers will be placed at the school on a full-time basis.
The initiative is an attempt to imitate the best elements of medical training at a teaching hospital.
Irvine Royal Academy has become the first in Scotland to be established as a partner school for the university.
The move followed a pilot programme at a number of schools in Glasgow.
Academics from the university will join the students in working full time at the school in Irvine.
The current model of teacher training has been based on classroom study within the university, followed by secondment for blocks of time at different schools.
Real teaching
Prof James Conroy, of the School of Education at the University of Glasgow, said: "This is a new and hugely exciting model of teacher education that we are convinced will lead to more robust and dynamic links between the university and local schools.
"Our partnership with Irvine Royal Academy will see student teachers placed with their university tutors in the school, where they will continue to learn through tutorials and seminars.
"But key to the success of the project will be the focus on 'learning rounds', where staff and other students observe each other in a real teaching environment."
The establishment of the partnership followed detailed discussions with North Ayrshire Council, the staff of Irvine Royal Academy, the school's parent council and head teachers from Irvine's primary schools.
Irvine Royal Academy Head Teacher Stirling Mackie said: "We are delighted and very proud to be named as a 'University Partner School' and in particular to be associated with one of the top 100 universities in the world.
"Having been a very successful national pilot school for 'learning rounds' three years ago, the fit between us and the new teaching model could not be better."
Doubts raised
Education Secretary Mike Russell is to visit Irvine Royal Academy to formally launch the partnership.
He said: "We are committed to supporting the development of a highly-skilled workforce and I am confident that this truly innovative model of partnership will be of great value to pupils and teachers in the schools involved and, importantly, to the student teachers learning the profession here."
Doubts about the concentration of teacher training in a small number of schools have been raised by teachers' representatives.
Larry Flanagan, education convener of the EIS union, said: "We have a number of concerns, partly to do with a narrowing of resources available to individual schools, partly to do with the impact on pupils at a training school of seeing a succession of student teachers.
"This moves some of the workload onto schools from the university without extra resources being given to schools."