Neil Lennon 'parcel bomb plot' trial begins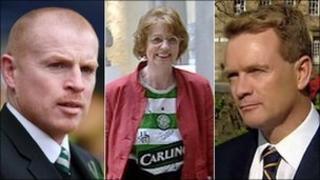 The trial has begun of two men accused of a plot to kill Celtic manager Neil Lennon and two other high-profile supporters of the club.
Trevor Muirhead, 43, and Neil McKenzie, 42, are alleged to have sent suspected parcel bombs to Mr Lennon, QC Paul McBride and former MSP Trish Godman.
The first witnesses were postal workers who described becoming suspicious about the packages and alerting police.
The accused, both from North Ayrshire, deny all the charges against them.
Postman Andrew Brown, 27, told the jury at the High Court in Glasgow he was collecting mail from a postbox on Gladstone Road, Saltcoats, when he spotted a brown package addressed to Neil Lennon.
He said he had watched the match between Rangers and Celtic just a few days earlier and remembered what he described as " a scuffle" between Ally McCoist and Neil Lennon.
He said the package just "didn't feel right. Different textures. You could feel sharp edges. You could feel it from the outside".
At his office he brought it to the attention of his line manager Andrew Easton.
In his evidence, Mr Easton, 59, said he contacted the police who advised him to evacuate the building.
He said: "I didn't attempt to open it. It felt suspicious, after the trouble at the Celtic match that was on the telly. The contents felt like a bag of nails."
Sgt James Reid, 47, from Strathclyde Police, described the moment that the parcel was opened.
He said: "There was a quantity of nails, a small piece of putty, a small clock face which was digital and a wire like from a stereo connecting to the putty."
He said the sorting office was evacuated for four hours with the main concern being that it would "detonate and cause injury or damage".
'Disguised' handwriting
The trial later heard from the police officer who opened the suspect package.
Insp Brian Ferguson, who is trained in couter terrorism, said he believed the marker pen writing on the envelope appeared "disguised".
"There were a couple of nails protruding and hand-writing that seemed like a right handed person using their left hand to write," he said.
"It did not look neat or tidy. It had an aspect of disguising."
Insp Ferguson said he used scissors to open the package and concluded it was not a "viable device" after studying the contents, which included nails embedded into a grey substance.
Prosecutor Tim Niven-Smith asked him: "But, it had the appearance of being a viable device?"
Insp Ferguson replied: "If an individual had received that, their understanding may be that it was a bomb."
Endanger life
It is alleged that the package, sent to Neil Lennon at Celtic FC's training centre in Lennoxtown, East Dunbartonshire, included a plastic bottle containing the substance tri-acetone tri-peroxide, with a wire attached and a plastic bag containing a bag of nails and a watch component.
Mr Muirhead, from Kilwinning, North Ayrshire, and Mr McKenzie, from Saltcoats, North Ayrshire, are also charged with sending similar devices to Ms Godman at an address in Bridge of Weir, Renfrewshire, and to the Glasgow offices of Cairde na hEireann, an Irish Republican supporters group.
It is alleged that the package sent to Mr McBride at the Advocates' Library, in Edinburgh, comprised of a plastic bottle containing petrol with wire attached, a plastic glove, nails and a watch component.
The accused men are charged with conspiring to assault and murder Neil Lennon, Trish Godman, Paul McBride and occupants of the Cairde na h'Eireann offices by sending them devices they believed were capable of exploding.
It is also alleged that they bought nails, envelopes, travel bottles and digital sports watches at two shops in Stevenston, Ayrshire, and induced another man to buy cream peroxide.
The pair face an alternative charge that they conspired to cause an explosion "likely to endanger life or cause serious injury to property".
They are further charged with possessing explosive substances, threatening behaviour including a specific threat to set off a bomb outside a police station, and of disposing of an explosive substance that could have been used as evidence against them.
The trial, before Lord Turnbull, continues.