Neil Lennon 'parcel bomb' trial shown photographs of package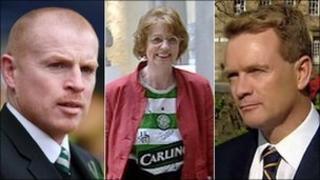 The trial of two men accused of plotting to kill Neil Lennon has been shown photographs of a package addressed to the Celtic manager.
The High Court in Glasgow heard the A5-sized parcel raised suspicions at a Royal Mail office in Kirkintilloch when a nail burst through it.
Trevor Muirhead, 43, and Neil McKenzie, 42, are alleged to have sent suspected parcel bombs to Mr Lennon, QC Paul McBride and former MSP Trish Godman.
They deny all the charges against them.
Police officers told the jury the package had contained a cloudy liquid, nails, wire and a digital watch face.
One told the court they had judged the device was not viable as there was "no evident detonator" or sufficient power source.
A Royal Mail depot manager in Kirkintilloch, East Dunbartonshire, told the court the package - which was addressed to Mr Lennon at Celtic's nearby training ground at Lennoxtown - was not franked, did not have enough postage and had no postcode.
Kim Riddoch, 44, told the court she noticed the package, which only had one first class stamp on it, was too heavy to reach its destination as it had been underpaid.
She said the underpayment should have been detected by staff at the mail centre in Glasgow, where every item of mail in the west of Scotland is dealt with before being sent to local sorting offices for delivery.
She also said the franking process, which marks the date on a package, should have been done at the Glasgow centre.
Explosive substances
Donald Findlay QC, representing Mr McKenzie, asked Ms Riddoch: "So it is possible, I suppose, that this package entered the mail system at a later stage than, say, being put through a post box or paid for at a post office?"
She replied: "That is not impossible."
PC Gemma Currie, 30, gave evidence about the contents of the package.
She said it held a small bottle containing a cloudy liquid, 43 nails, wire and a digital watch face.
Ms Currie told the jury there was a slight smell of petrol or diesel.
PC Grant Wilson, who has had counter-terrorism training, also gave evidence about opening the package.
He said the wire in the package was connected to bottle containing milky liquid, with the other end attached to a very small digital display.
The 31-year-old officer said it had been judged that the device was not viable.
Endanger life
The court has also heard details of a "suspicious" package addressed to Trish Godman MSP which was said to be "similar" to one sent to Mr Lennon.
Evelyn Campbell, 64, the Labour MSP's personal assistant said the package arrived "with a thud" at her constituency office in Bridge of Weir, Renfrewshire, on 28 March 2011.
Ms Campbell told the court the package was "heavy, unusual, and smelled of glue".
She said after she started to open it a wire fell out with "a device" attached.
The two accused are charged with conspiring to assault and murder Neil Lennon, Trish Godman, Paul McBride and occupants of the Cairde na h'Eireann offices by sending them devices they believed were capable of exploding.
It is also alleged that they bought nails, envelopes, travel bottles and digital sports watches at two shops in Stevenston, Ayrshire, and induced another man to buy cream peroxide.
The pair face an alternative charge that they conspired to cause an explosion "likely to endanger life or cause serious injury to property".
They are further charged with possessing explosive substances; threatening behaviour including a specific threat to set off a bomb outside a police station; and of disposing of an explosive substance that could have been used as evidence against them.
The trial, before Lord Turnbull, continues.