'Parcel bomb' trial shown store receipts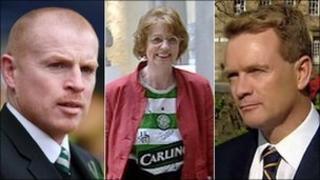 The trial of two men accused of sending parcel bombs has been shown a copy of a receipt for bubble envelopes, travel bottles and sports watches.
The High Court in Glasgow saw a receipt for B&M stores in Stevenston, Ayrshire, dated 14 April 2011.
On 15 April a suspect package was posted from nearby Kilwinning.
Trevor Muirhead and Neil McKenzie deny sending parcels to Celtic manager Neil Lennon, QC Paul McBride and former MSP Trish Godman.
The trial heard from Det Sgt Andrew Wright who said the suspect package in a padded envelope collected by a postman in Kilwinning was addressed to Mr McBride and contained nails and a clear plastic bottle linked by wire to a timer.
The officer said that when he saw the package it also contained a blue surgical glove.
Petrol smell
The court has also heard about suspect packages addressed to Mr Lennon, intercepted on the 4 March and 26 March, and to Ms Godman, which was received on 28 March.
Det Con Tanya Hamilton, 42, of Strathclyde Police, said all three of those packages contained bubble envelopes, sports watches and travel bottles.
Peter Aliss, 36, an IT assistant with B&M at the company's head office in Liverpool, said that he found a record of the receipt with all three items on it on the firm's computer system after being contacted by the police.
Under cross-examination by Donald Findlay QC, for Neil McKenzie, Mr Aliss admitted that, at the request of the police, he had only searched the receipts from one store - Stevenston - for dates limited to March and April 2011.
Earlier, the trial heard how a postman drove around Kilwinning for 40 minutes on 15 April with the suspect package, which smelt of petrol.
Stewart Hume said he raised concerns, but was told by a supervisor to carry on with his duties before being told to stop.
The 37-year-old said the parcel was addressed to Mr McBride, a name he recognised from the media. He described it as a "suspicious package".
The postman eventually stopped at North Ayrshire Council offices when he was advised by his supervisor to get away from the van.
'Peroxide tests'
Under cross examination from Mr Findlay, Mr Hume denied leaking information about the incident to the media.
Mr Hume agreed with Mr Findlay that Mr McBride had been "spouting off about football" and making some "controversial" comments.
Scott Johnstone, a scene examiner working for the police, told the court he had taken photographs of the McBride package.
The jury were shown pictures and Mr Johnstone agreed the end of a wire in the package appeared to be unsheathed and went inside a plastic bottle.
In other evidence, a bomb disposal expert told the court how he dealt with suspect devices on 13, 14 and 15 April 2011.
Royal Navy Leading Diver Robert McCann, 40, said a device addressed to Mr Lennon, at Celtic's training ground, tested positive for peroxide.
He said the test was for peroxide, not peroxide-based explosive, and a sample was then sent for further analysis.
Mr Muirhead, from Kilwinning, North Ayrshire, and Mr McKenzie, from Saltcoats, North Ayrshire, are charged with conspiring to assault and murder Mr Lennon, Ms Godman, Mr McBride and occupants of the Cairde na h'Eireann offices by sending them devices they believed were capable of exploding.
The trial, before Lord Turnbull, continues.