Explosion as blaze damages St Mary's Primary School in Larkhall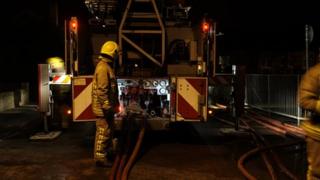 Parts of a building collapsed and a drain cover was blown more than 30ft into the air after a fire broke out at an unoccupied school in Larkhall.
More than 35 firefighters tackled the blaze after being called to St Mary's Primary on Raploch Road at 02:37.
Sections of the school collapsed, although part of the building with listed status survived the blaze.
There was an explosion after gas leaked into the sewers around the building, blowing the drain into the air.
Extra fire crews from Motherwell, Hamilton, and Bellshill were called in to help tackle the blaze.
They spent five hours bringing the fire under control, and were still carrying out dampening down operations on Tuesday morning.
A full investigation into the cause of the blaze will be carried out by Strathclyde Fire and Rescue and Strathclyde Police.