Neil Lennon bomb trial: Man 'bought peroxide' for father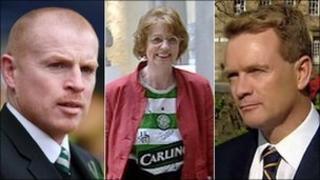 The son of one of the accused in the Neil Lennon bomb plot trial bought peroxide after being asked to by his father, a court has heard.
The High Court in Glasgow was told Paul Millan bought bottles of peroxide for Trevor Muirhead last year.
He said he believed the purchase was on behalf of his half-sister Gemma.
Mr Muirhead, 43, and Neil McKenzie, 42, deny conspiring to murder Celtic manager Mr Lennon, QC Paul McBride and former MSP Trish Godman in May 2011.
The peroxide bottles were purchased from a Sally Salon Services shop last year.
Money paid
Prosecutor Tim Niven-Smith asked Mr Millan: "Who asked you?"
Mr Millan: "It was for Gemma, but my father asked me."
Mr Niven-Smith went on: "You were asked by your father to obtain peroxide?" The witness replied: "Yes."
The advocate depute said: "But, you understood that it was for Gemma?" Mr Millan said: "Yes."
Mr Millan then told how he texted Mr Muirhead after the purchase and then went to his home to drop it off even though Ms Muirhead did not live there.
Mr Niven-Smith asked: "Who paid you the money?" Mr Millan said: "My father."
The prosecutor said the peroxide was "not much use" to Ms Muirhead and asked Mr Millan if he knew she had been allergic to the substance.
Mr Millan said he did not know.
Peroxide charge
Mr Muirhead's QC Gordon Jackson later said to Mr Millan that he "knew fine" the problems his half-sister had with peroxide.
The advocate asked why Mr Millan had been "evasive" in his evidence.
Mr Millan replied: "I'm nervous because it is the first time I have been up in the high court."
Mr Millan also admitted he had initially lied to police about claiming he had not known his father's co-accused Mr McKenzie.
He claimed this was because he was "upset" at getting "hauled" into the parcel bomb investigation.
Mr Muirhead and Mr McKenzie face charges including "unlawfully and maliciously conspiring" to endanger life or cause serious injury.
They are also accused of having made and possessed Triacetone Triperoxide with the intent to endanger life.
Both men deny all the charges.
The trial, before Lord Turnbull, continues.