Shane McGrath jailed for fatal shooting of Stephen Pollock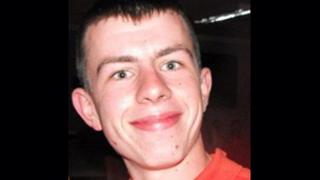 A man who accidentally shot and killed a young family friend at his home in Paisley has been jailed for 52 months.
Shane McGrath fired a shotgun at 21-year-old Stephen Pollock at his house in Weaver Terrace on 21 December.
The 49-year-old later pleaded guilty to a charge of culpable homicide over Mr Pollock's death.
The High Court in Glasgow heard one barrel of the weapon had jammed when fired earlier. It went off when McGrath checked it later, killing Mr Pollock.
The court was told that McGrath had been present when the shotgun was used to shoot out a car windscreen in Beith, as part of an ongoing feud involving his daughter Kerry Anne McGrath and her partner Kevin Abraham and their friends and another family.
'Almighty bang'
The car was targeted after an incident at McGrath's home. He did not fire the shot into the car and was not the owner of the shotgun.
Mr Pollock and two other friends were later standing in the kitchen of McGrath's house when he picked up the gun, which he claimed was jammed and loaded with two cartridges.
Mr Pollock was standing directly in front of him when McGrath touched the hammer behind the undischarged barrel.
The court heard there was an "almighty bang" and McGrath shouted: "No, no" over and over and "Pollock".
Witnesses described McGrath as having a look of terror on his face and said his face had turned chalk white.
McGrath's daughter telephoned an ambulance, while his partner Gail Erskine cradled Mr Pollock and was heard to say: "Come on Stephen, keep it together."
The 21-year-old died from a massive wound to the chest.
After the shooting, McGrath threw the gun onto a nearby railway embankment where it was recovered by police.
Ballistics' experts later describe the shotgun as having been in a poor condition and said they could not rule out the gun discharging in the manner described by McGrath.
The 49-year-old later confessed to killing Mr Pollock when he was interviewed by police six days after the shooting.
'Freak accident'
McGrath told detectives: "The gun had been fired at something earlier, but only one barrel, the other one jammed so that was left half-cocked.
"Someone said to me 'what do you think has happened to that'?"
McGrath said as he picked it up the other barrel went off and Mr Pollock was standing in front on it.
He added: "Stephen Pollock was a friend of my daughter and my family and there is no way it was intentional. It was just a freak accident and I've picked it up and it's went its own way."
Jailing McGrath, judge Lord Bannatyne told him: "This was really a tragic event. Mr Pollock's family have been devastated by the loss of this young man.
"I have to take regard of the fact you had a deadly weapon and because you had that weapon a young man died."
However, Lord Bannatyne also said he was taking into account the "unusual character" of the offence and added: "That day there was no intent on your part to kill and I also take into account your remorse."