Shelter abuse website sees surge over Old Firm weekend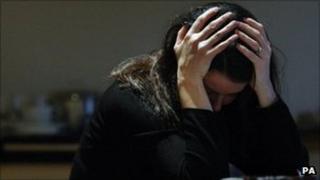 A domestic abuse advice campaign run by Shelter Scotland over the Old Firm weekend led to a surge in visits to its website, the charity has claimed.
Shelter said the campaign on social networking site Facebook had generated a 600% rise in website visits from women looking for help and advice.
Alison Watson from Shelter Scotland said the length of visits to pages showed people were not just browsing.
She said she feared reported cases of abuse were the "tip of the iceberg".
The charity said the Facebook campaign was launched to coincide with the Rangers v Celtic match at Ibrox on Sunday.
'Living in fear'
Previously, Strathclyde Police said that the Old Firm fixture was often the catalyst for a spike in reported incidents of domestic abuse.
Shelter said visits to the "Leaving Home in a Hurry" section of its website increased from zero the previous week to 290.
Visits for the "Legal Action on Partners" page increased by 100%.
Ms Watson, head of services at Shelter Scotland, said: "These figures show that hundreds, perhaps thousands of people across Scotland, mainly women, went online last weekend to find advice and help on issues related to domestic abuse - and they weren't just browsing.
"The average length of visit to our advice pages increased to several minutes.
"With a 600% rise in visits to our domestic abuse advice pages, we think that reported cases may only be the tip of the iceberg and that there could be hundreds more unreported cases of people living in fear of or suffering abuse.
"We hope that lessons will be learned and that the link between Old Firm matches and increased domestic abuse levels can finally be broken. Otherwise, the cycle of abuse will continue and many more lives will be ruined."