Martin Bain drops damages action against Rangers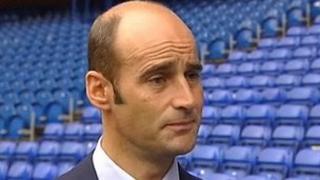 Former Rangers chief executive Martin Bain has abandoned his £900,000 damages claim against the football club.
Mr Bain had been suing over alleged breach of contract following Craig Whyte's takeover last year.
He had £480,000 of the club's assets ring-fenced pending settlement.
Mr Bain said he was prepared to return this sum, minus legal expenses, to Rangers' administrators and stressed his legal action had been aimed at Craig Whyte and not the club.
The former chief executive was alleging breach of contract following the takeover at Rangers by venture capitalist Mr Whyte from the former owner Sir David Murray.
'Difficult relationship'
Mr Bain was part of an independent board committee of directors appointed to appraise any takeover bids for the club on behalf of shareholders.
He later maintained that the committee had "a difficult relationship" with Mr Whyte in the run up to the takeover, and after the shares changed hands the new owner "took steps to remove those who he considered were not wholly committed to him personally".
Mr Bain said he was suspended at a board meeting when in the US on business on 23 May 2011 and did not return to work.
He said in subsequent press interviews that Mr Whyte said he would not return to the club.
The former chief executive pursued a damages claim for breach of contract and successfully had £480,000 of Rangers' assets ring-fenced.
This was granted after a judge agreed there was a real risk of insolvency if an outstanding £49m tax bill case went against Rangers.
While the case was proceeding, Rangers entered administration last month after being unable to pay tax debts of about £9m.
It has since emerged that Mr Whyte controversially sold off four years of Rangers season ticket cash to the finance firm Ticketus in return for about £24m.
'Totally committed'
With the club still in administration, and new revelations emerging about Mr Whyte's dealings and business past, Mr Bain said he was abandoning his legal claim against Rangers.
In a statement issued through his lawyers, he said: "Everyone close to Rangers Football Club knows that I am, and always have been, totally committed to the club and that remains my position.
"As chief executive and part of the independent board, our job was to assess and highlight to all stakeholders if we believed there was uncertainty over the future financial viability of the club under new ownership.
"Unfortunately, the independent board had no legal power to block the transaction and Sir David Murray made it plain that he wanted to sell."
Mr Bain said that he "strongly recommended on more than one occasion that Craig Whyte should not be allowed to buy the club".
He said this was based on investigations of Mr Whyte's background and the responses he gave to questions raised.
Mr Bain continued: "Unfortunately that forceful representation was not accepted and when he took over I was suspended and my contract ripped up.
"With what has subsequently transpired, it is quite obvious why he disposed of me in the manner he did.
"I was further vilified in the press and continue to be subjected to endless rumours and attacks."
Mr Bain described the financial crisis which has engulfed Rangers as "shocking".
'Misinformation flow'
He added: "I had no option but to pursue a claim based on Craig Whyte's actions - the litigation was a response to his actions and not those of Rangers Football Club.
"I firmly believed it was important to make sure he would have to explain everything he did in a court of law.
"Because of the legal process it has not been possible or appropriate to make public comment, which has been extremely hard given the flow of misinformation and falsehoods both myself and the club had been subjected to."
Mr Bain pointed out that since August 2009, the club, with him at the helm, had managed to win three league titles while reducing costs and debt "beyond the targets set by the bank".
His statement concluded: "In light of the club's current position I instructed my lawyers to advise the administrators that I am willing to discontinue the legal action."
He added: "Subject to recovering the costs associated as a result of this action, I will give over to the administrators the remainder of the money that was arrested as part of my case in an effort to help the club.
"I always have done, and will continue to do, everything I can to help the club in these difficult times."