Patrick McGowan held without limit of time for killing Douglas Hill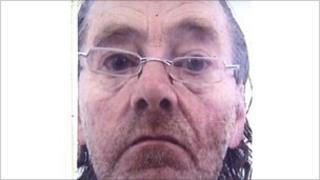 A man who killed a friend in a brutal attack at his home has been ordered to be detained without limit of time.
Patrick McGowan, 53, inflicted multiple fractures on Douglas Hill, 63, at the flat in Anderston, Glasgow, in 2010.
He was charged with murder but pleaded guilty to culpable homicide on the grounds of diminished responsibility.
Temporary judge Norman Ritchie QC told McGowan he was being sent to the State Hospital after doctors said he was a danger to himself and to the public.
The High Court in Glasgow heard that McGowan killed his friend at the victim's home in September 2010.
Mr Hill's body was discovered in his bed on 18 September.
Blood found
Police questioned McGowan, who said he had been in Mr Hill's flat days earlier where he had been given a jacket after getting soaked by the rain.
McGowan, also from the city's Anderston area, denied involvement in any attack, claiming he had left when a man came to the property demanding to be let in.
The court was told, however, that Mr Hill's blood was found on McGowan's shoe.
The pattern on his soles was also found to resemble marks on the victim's back.
The court heard how Mr Hill died as a result of blunt force trauma to the head and chest, but there was a possibility he could have survived if he had received immediate medical attention.
After being arrested, McGowan's mental state deteriorated and he was latterly detained in the State Hospital at Carstairs.
The court heard that McGowan has a history of setting himself on fire while in prison.