Muirhead and McKenzie guilty of Neil Lennon parcel bomb plot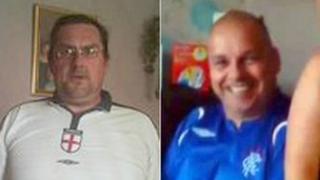 Two men who sent suspect packages to Celtic manager Neil Lennon and two high-profile fans have been convicted of plotting to cause severe injury.
Trevor Muirhead, 44, and Neil McKenzie, 42, from North Ayrshire, sent devices they believed were capable of exploding and causing injury.
The men were found guilty of conspiracy to assault Mr Lennon, former MSP Trish Godman and the late Paul McBride QC.
Sentence was deferred until next month and both were returned to custody.
The case against them centred on five suspicious packages, two of them addressed to Mr Lennon, which were discovered in spring last year.
The court heard that none of the devices sent was viable but prosecutors argued that both accused believed four of them were capable of exploding or igniting.
McKenzie told police he had learned how to make a hoax bomb by watching the 1980s TV show The A-Team.
One package did not have enough stamps, another smelt of petrol and a third had a wire which fell out.
Police bugged their car and heard them complain that they were not a couple of "daft hillbillies" but the prosecution argued that packages containing explosive substances could not be regarded as hoaxes.
Muirhead, from Kilwinning, and McKenzie, from Saltcoats, both North Ayrshire, were originally accused of conspiring to murder their targets but that charge was thrown out due to insufficient evidence.
Following a five-week trial at the High Court in Glasgow, a jury of 11 women and four men took almost two and a half hours to find the pair guilty by majority verdict of the conspiracy to assault charge.
Serious offences
McKenzie was also found guilty of dispatching an item on 3 March to Mr Lennon at Celtic Park with the intention of inducing him to believe it would "explode or ignite".
Muirhead was cleared of this charge after the jury returned a not proven verdict.
Judge Lord Turnbull told both men they had been convicted of "unusual but serious offences".
Det Ch Sup John Cuddihy, senior investigating officer with Strathclyde Police, said: "Muirhead and McKenzie have been found guilty of the most cowardly and reckless of crimes.
"They had no thought for the very many people in the postal service and administrative offices who may have been injured or maimed by handling these packages.
"Muirhead and McKenzie's deplorable actions were motivated by hatred. Their actions certainly have nothing to do with football and everything to do with mindless hate."
District procurator fiscal Liam Murphy added: "Trevor Muirhead and Neil McKenzie committed a series of criminal acts designed to intimidate and frighten a number of prominent persons connected with Celtic Football Club and Ireland.
"It is clear from the evidence that their intention had been to inflict harm on others.
"This was not about football - it was an act of violence against Scottish society as a whole, and impacted across the UK."
The first parcel was discovered on 4 March 2011 soon after a much-publicised confrontation between Mr Lennon and now Rangers FC manager Ally McCoist at an Old Firm match.
Later that month a second parcel meant for the Celtic manager at the club's training ground in Lennoxtown, East Dunbartonshire, came to light.
The brown padded envelope was intercepted at the Royal Mail sorting office in Kirkintilloch on 26 March last year when a postman spotted a nail protruding from it.
It tested positive for peroxide, which can be used to make explosives.
Two days later, on 28 March, a package delivered to Ms Godman's constituency office in Bridge of Weir, Renfrewshire, caused the evacuation of the building.
Jurors heard that liquid inside a plastic bottle within the package had tested positive for the explosive substance triacetone triperoxide.
Before the incident, Ms Godman, who was Labour MSP for West Renfrewshire, had worn a Celtic top to the Scottish Parliament as a "dare for charity" on the final day before Holyrood was due to dissolve, pending the elections.
On the same day as the package was delivered to the former MSP, a package destined for Cairde na hEireann (Friends of Ireland) in Glasgow was in the postal system.
A postman had tried to deliver the package to the republican organisation at the Gallowgate on 28 March.
After failed attempts to do so then, and on the following day, it was sent to Royal Mail's National Returns Centre in Belfast.
The package was X-rayed and found to contain nails, a watch component, a bottle and a wire. It was also said to hold potentially explosive peroxide.
The following month, a Royal Mail delivery driver found a suspicious package addressed to Mr McBride at the Advocates' Library in Edinburgh, which contained a bottle of petrol.
It was collected from a postbox in Kilwinning on 15 April last year. The package was found to contain nails and a wire.
Mr McBride was known to have represented Mr Lennon and Celtic.