Murdered gangster Kevin 'Gerbil' Carroll 'was a nutcase'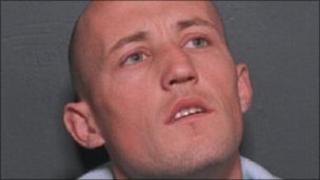 The trial of a man accused of shooting dead Kevin "Gerbil" Carroll has heard the deceased described as a "nutcase" and major Glasgow gangland figure.
Retired police officer George Gallacher told the High Court in Glasgow that Mr Carroll was "high up" in drug dealing.
The 54-year-old was giving evidence at the trial of Ross Monaghan.
The 30-year-old denies murdering Mr Carroll, who was 29, at the Asda car park in Robroyston, Glasgow, on 13 January 2010.
Mr Gallacher told the court that he had seen Mr Carroll in the passenger seat of an Audi A3 car at Anniesland Cross, Glasgow, days before he died.
'Hollywood movie'
He said he recognised him because for the last seven years of his 30-year police service he had been involved with the drugs and surveillance unit.
Mr Gallacher added: "He (Mr Carroll) had been the subject of a couple of operations."
The former policeman also told advocate depute Iain McSporran, prosecuting, that he saw a Volkswagen Golf in the same area being driven all over the place like in a "Hollywood movie".
He noted part of the car's registration which was 55 EZZ.
Under cross-examination by defence QC Derek Ogg, Mr Gallacher said that both cars were in front of him, but he could not say what their positions were relative to each other.
Mr Ogg asked: "What was the Gerbil's reputation, you were involved in drugs surveillance?"
Mr Gallacher replied: "I was aware of him. He was a nutcase, basically."
"I would imagine his fellow drug dealers would not have been happy to deal with him. He was not a nice person."
Drugs trade
Mr Ogg then asked: "We may hear people saying they feared being abducted by him."
Mr Gallacher replied: "He was at that level of criminality. There is no doubt at all."
Mr Ogg added: "If we hear from other drug dealers they were terrified of the Gerbil does that give you some insight."
Mr Gallacher replied: "It is quite possible that could happen."
He was then asked if Mr Carroll was high up in drug dealing in Glasgow and replied: "Yes, high up."
The former policeman was then asked if Mr Carroll was violent towards those he fell out with and replied said: "I can't answer that honestly."
The jury heard that Mr Carroll was sitting in the back seat of a three-door Audi A3 when he was shot dead.
Although Mr Gallacher said he had seen him in the front passenger seat of a similar car some days earlier Mr Ogg then asked: "Were you aware he had been shot on previous occasions."
Mr Gallacher replied: "I wasn't aware he had been."
Car park meeting
The trial later heard from 26-year-old Steven Glen who said he saw two men shoot Mr Carroll.
Mr Glen revealed that minutes earlier he had met with Mr Carroll.
He told Mr McSporran that he left Mr Carroll and his two associates and walked back to where his car was parked.
Mr Carroll, he said, walked back with his two colleagues to the black Audi A3 he had arrived in.
Mr Glen said: "I was reversing back. I heard three or four cracks. I never thought anything about the first few."
He said that when he glanced towards Mr Carroll's car there was a Volkswagen Golf parked in front of it blocking it in.
Mr Glen said: "I saw two people shooting. One was on the driver's side and one on the passenger side. My main interest was in getting away, but it was as if I forgot how to get out the car park."
He said the Golf drove past him at speed and he then drove off.
Threatening text
Earlier, Mr Glen told the jury that he had been phoned the night before by Mr Carroll demanding to see him.
Mr Glen said he had chosen the time - 12:30 - and the venue Asda car park because he wanted to meet somewhere where there were a lot of people.
He told Mr McSporran that initially he had tried to ignore Mr Carroll's demand that they meet and had not answered subsequent calls and texts.
But he added that changed when he woke up to find a text from Mr Carroll saying: "You have no manners. If you don't phone me today I'll come to your door and I'll be using my feet to get in."
Mr Glen said he was frightened of what might happen to him so he told Mr Carroll he would meet him at the cash machines at the front of Asda in Robroyston and added: "It was just basically somewhere for me where I felt safe. It was a busy area."
He told the court that a friend also went to the supermarket in a taxi and was to phone for help if anything happened to Mr Glen.
The jury was told that a couple of months before the shooting Mr Glen had been dealing drugs on a small scale and working for Allan Johnston.
Mr Glen said by January 2010 he was not working for anyone.
'Working for me'
The court heard that when he got to the supermarket just before 12:30 there was no sign of Mr Carroll.
He arrived after 13:00 and according to Mr Glen told him: "You're working for me now."
Mr Glen said that after a brief discussion they went their separate ways and then he heard the sound of shooting.
He was asked by Mr McSporran if he had had anything to do with the shooting of Mr Carroll and replied: "No."
Earlier the jury was shown photographs of the crime scene. Bullets and cartridges were found near to Mr Carroll's car and the rear side windows were smashed.
Jurors were also shown photographs of the bullet-damaged interior of the car and a folder with a bullet lodged in it.
It is alleged that while masked and acting with others, Mr Monaghan murdered Mr Carroll by repeatedly discharging loaded handguns at him, shooting him on the head and body.
Mr Monaghan is also accused, while acting with others, of attempting to defeat the ends of justice by disposing of a revolver, pistol and ammunition within undergrowth in Coatbridge and Airdrie, both North Lanarkshire.
It is also claimed a car - bearing false number plates YF 55 EZZ - was set on fire.
Mr Monaghan also faces a number of firearms charges.
He denies all the charges against him and has lodged a special defence of incrimination, blaming Mr X, who cannot be named for legal reasons, and seven others.
The trial before judge Lord Brailsford continues.