Murdered gangster Kevin 'Gerbil' Carroll branded 'a maniac'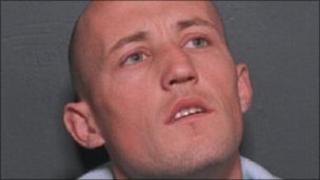 The trial of a man accused of shooting dead Kevin "Gerbil" Carroll has heard the deceased Glasgow gangland figure described as "a maniac".
Steven Glen agreed when questioned at the High Court in Glasgow that Mr Carroll, 29, was rumoured to have disfigured and tortured his enemies.
The 26-year-old was giving evidence for a second day at Ross Monaghan's trial.
Mr Monaghan, 30, denies murdering Mr Carroll at the Asda car park in Robroyston, Glasgow, in January 2010.
Mr Glen, who has previously told the trial he saw two men shoot Mr Carroll minutes after he had met with him, denied luring the gangster to his death.
Drugs offer
He told defence QC Derek Ogg that he arranged to meet Mr Carroll at the supermarket car park at lunchtime after receiving a threatening text from him.
Mr Glen, who said he was making £250,000-a year dealing cocaine, was offered £120,000 by Mr Carroll to work for him.
The jury heard that seconds after Mr Carroll left Mr Glen to return to his car, he was shot dead as he sat in the back seat of a three-door Audi A3 car.
Mr Glen told Mr Ogg that he arranged to meet Mr Carroll at 12:30, but he did not arrive until after 13:00.
He said that Mr Carroll told him he wanted to take over all the independent drug dealers.
Shooting threat
The jury was told that Mr Carroll told Mr Glen that he was working for him and added: "Anyone who doesn't toe the line will be getting a bang."
Mr Glen was asked what he understood by this and said: "They would be shot."
Mr Ogg asked: "Have you heard stories about him (Mr Carroll) torturing people?" and he replied: "Yes."
The QC then said: "Have you heard stories about him maiming and disfiguring people?" and Mr Glen replied: "Yes."
Mr Glen was then asked if he had heard of Mr Carroll digging the tongues out of people's mouths and said: "I've never heard that."
Mr Ogg said: "Was the Gerbil out of control," and Mr Glen replied: "He was a maniac. I know that."
Mr Glen was asked if it was just coincidence that just seconds after meeting with Gerbil he was shot down and replied: "It's the best I can do. It is a coincidence. It is nothing to do with me."
Later Mr Glen was asked by advocate depute Iain McSporran: "Were you knowingly part of luring Kevin Carroll there to be shot?" and replied: "No."
The witness told the prosecutor that only he and his friend Jason McConnell knew the time and place of the meeting.
CCTV footage
The court heard that Mr Glen had asked Mr McConnell to go along to the supermarket cafe in case anything went wrong at the meeting.
The jury was shown CCTV footage which showed the Volkswagen Golf used by the men who shot Mr Carroll leaving the car park at speed. It was followed out seconds later by Mr Glen's car.
He was asked why he had not left the car park before the Golf and said that he had panicked and was disorientated.
It is alleged that while masked and acting with others, Mr Monaghan murdered Mr Carroll by repeatedly discharging loaded handguns at him, shooting him on the head and body.
Mr Monaghan is also accused, while acting with others, of attempting to defeat the ends of justice by disposing of a revolver, pistol and ammunition within undergrowth in Coatbridge and Airdrie, both North Lanarkshire.
It is also claimed a car - bearing false number plates YF 55 EZZ - was set on fire.
Mr Monaghan also faces a number of firearms charges.
He denies all the charges against him and has lodged a special defence of incrimination, blaming Mr X, who cannot be named for legal reasons, and seven others.
The trial before judge Lord Brailsford continues.