Anger over loss of Vodafone coverage on Colonsay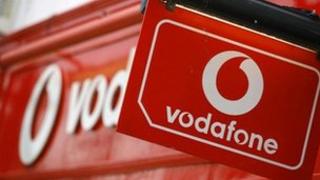 Safety concerns have been raised over a sustained loss of Vodafone mobile coverage on a small Scottish island.
One resident on Colonsay, Argyll and Bute, said the outage meant the local doctor and Coastguard chief could not be contacted on their mobile phones.
Vodafone said the problem with coverage began on 23 March.
The company said it was doing its best "to get a resolution in place before the scheduled date of 12 April" and apologised to customers.
Colonsay resident Angus MacPhee said the loss of coverage for the Vodafone network was a "recipe for potential disaster" given that the island was due an influx of visitors over the Easter weekend.
'No explanation'
He said: "This means our local doctors can't be contacted if they are out and about as calls to the surgery divert to their Vodaphone mobiles if there's no one there.
"The local coastguard chief also has a Vodaphone mobile so can't be contacted if away from a landline."
Mr MacPhee added: "This has been going on for well over a week and Vodafone has given no explanation of what the problem is or what's being done to fix it."
In a statement, Vodafone said: "We are aware that this local site has developed a fault and we're doing everything we can to get this fixed.
"At the moment the repair is scheduled for 12 April but we are trying to bring this forward. We do apologise to customers locally."
The company said the island's location meant that the problem on Colonsay was taking longer to diagnose and fix than an inner city site.
It said that when problems were identified with coverage, parts had to be ordered, contact had to be made on occasion with partner agencies, and sometimes permission had to be granted for site access.
These factors, Vodafone said, could all contribute to delays on repairs.