Duff and Phelps to put proposals to Rangers' creditors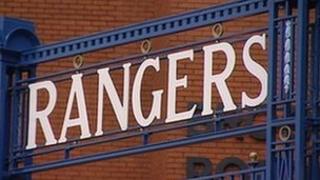 Rangers administrators are planning to put forward an initial set of proposals to the club's creditors by Thursday.
Duff and Phelps said these would relate to "routine housekeeping matters" for which they need creditors approval.
The club's creditors then have until 20 April to indicate whether they agree with the proposals, which would allow the administration process to continue.
Duff and Phelps said this statutory exercise would not consider any form of exit from administration.
Joint administrator Paul Clark said: "As administrators we are obliged, as part of our statutory duties, to put forward our initial report and statement of proposals to creditors by 5 April 5.
"The report will be uploaded to the Rangers Football Club website from that date."
Mr Clark said all creditors would have the chance to vote, by letter, for or against these proposals by 20 April.
'Technical resolutions'
He added: "In essence, the proposals consist of a set of legal and technical resolutions which relate to routine housekeeping matters, for which the joint administrators are required to seek creditors' approval.
"The proposals, if approved, will allow the joint administrators to continue the administration process until an appropriate exit from administration can be found.
"For clarification this is not a creditors' meeting at which a Company Voluntary Arrangement will be proposed, nor will any other form of exit from administration be determined at this juncture.
"Such matters will be formally considered once the sale process has reached a conclusion."
Duff and Phelps said advertisements will be placed in newspapers on Wednesday, giving notice of the vote.