Witness thought Kevin 'Gerbil' Carroll murder was 'another Dunblane'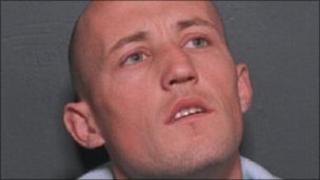 A shopper has told the Kevin 'Gerbil' Carroll murder trial she thought she was caught up in "another Dunblane" massacre when the gangster was killed.
Emma Busby, 32, told the High Court in Glasgow she saw a man with a gun when she came out of Asda in Robroyston, north Glasgow, on 13 January 2010.
She then saw two men shooting at a car in which Mr Carroll, 29, was sitting.
Ross Monaghan, 30, denies murder and has blamed another man, who cannot be named for legal reasons.
Mrs Busby, a care home chef from Glasgow, told advocate depute Iain McSporran, prosecuting: "I thought it was just someone shooting at everyone.
"I thought it was like another Dunblane massacre. That's what I was thinking.
"I kept hearing the sound of a baby crying."
'Clint Eastwood gun'
Mr McSporran asked Mrs Busby: "As I understand your evidence there were lots of people about and you thought that anyone and everyone could be shot."
She replied: "Yes."
Mrs Busby told the court that she and her mother had gone to Asda for shopping and as they came out with their trolley she saw a man with what she described as "a Clint Eastwood cowboy-style gun".
The jury was told Mrs Busby first became aware something was wrong when she saw a car drive in at speed and screech to a halt.
Mrs Busby said: "My first thought was there had been an accident. Then I saw someone jumping out of the front passenger side of the car.
"I saw he had a gun and was running towards an Audi. I started backing away."
When asked to describe the gun she said: "I just seen a big silver thing flashing."
She told the jurors that the gunman she saw was wearing a balaclava and black gloves.
Mrs Busby said another man also got out of the car and was shooting on the other side of the Audi.
'Crack and bang'
Under cross-examination by defence QC Derek Ogg, she said she knew there were two guns firing.
She told police who interviewed her at the time that one gun went "crack" and the other "bang."
Mr Ogg said: "You were concentrating on getting you and your mother to safety. Your first thought was is this another Dunblane?, is this a nutter with a gun?," and Mrs Busby replied: "Yes."
The court heard that Mrs Busby was so terrified by what happened that she walked back into the supermarket still pushing her trolley, instead of running away.
The trial later heard from Allan Johnston, 30, who admitted he had been caught with drugs, but denied being a player in the Glasgow drugs scene.
Mr Johnston was asked if quite a lot of people in Glasgow gangland circles would have an interest in having Mr Carroll killed and he replied: "Yes."
He said he heard of Mr Carroll's killing as it happened when his friend, Steven Glen, phoned him from the Asda car park in Robroyston.
The court has already heard that Mr Glen was there to meet Mr Carroll and feared he might be abducted by him.
Seconds after leaving Mr Glen, Mr Carroll was shot dead.
Mr Johnston said: "I got a phone call from Steven Glen saying 'Your pal's dead'.
Friend terrified
"I said how do you know and he said: 'I'm watching him getting shot now'."
Mr Johnston said that he was shocked and saddened by the death of Mr Carroll.
He said that Mr Glen contacted him as he was terrified because Mr Carroll had phoned him and said he wanted to meet.
Mr Johnston said that he advised Mr Glen to change his phone number and added that he knew nothing about the time or venue for the meeting between Mr Carroll and Mr Glen.
He denied that he was Mr Glen's boss in the drug trade.
The trial also heard from 22-year-old Jason McConnell, who told the court that he had agreed to go to Asda with Mr Glen and phone his mother and father if he was abducted by Mr Carroll.
Mr McConnell, a friend of Mr Glen, said he sat in the cafe and ate chips and gravy and drank a juice as he waited for Mr Carroll to arrive.
He denied a suggestion by defence QC Derek Ogg that he was actually there to let "the assassins" know when Mr Carroll arrived at the meeting.
Spotter denial
Mr Ogg said: "The Gerbil was shot down in his car seconds after walking away from your pal Steven Glen," and Mr McConnell said: "Yes."
The QC then said: "All the spotter had to do was use a cheap £15 phone with a SIM card bought by someone else which has got one number on it.
"All the spotter has to do is dial the one number and then get away and throw away the phone."
Mr McConnell replied: "That's not the way it happened. I was in the cafe for Steve. I was to phone his mum and dad if Gerbil took Steven away."
Mr Ogg added: "You say you were not the spotter," and Mr McConnell said: "No."
The court heard that as soon as Mr Carroll and his two companions, Stephen McLaggan and John Bonnar, arrived Mr McConnell went off to buy a juice.
He said he did this because he knew Mr McLaggan and Mr Bonnar, who lived in the same area as him, and did not think there would be any problems.
It is alleged that while masked and acting with others, Mr Monaghan murdered Mr Carroll by repeatedly discharging loaded handguns at him, shooting him on the head and body.
Mr Monaghan is also accused, while acting with others, of attempting to defeat the ends of justice by disposing of a revolver, pistol and ammunition within undergrowth in Coatbridge and Airdrie, both North Lanarkshire.
It is also claimed a car - bearing false number plates YF 55 EZZ - was set on fire.
Mr Monaghan also faces a number of firearms charges.
He denies all the charges against him and has lodged a special defence of incrimination, blaming Mr X, who cannot be named for legal reasons, and seven others.
The trial before judge Lord Brailsford continues.