Kevin 'Gerbil' Carroll witness 'not afraid' by gunmen firing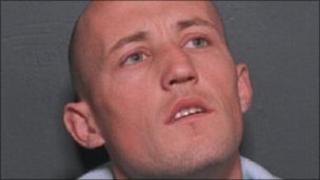 A trolley collector has told the Kevin "Gerbil" Carroll murder trial he was not afraid when gunmen started firing at a car in an Asda car park.
Alexander McBride was working outside Asda in Glasgow's Robroyston when he heard a car screech to a halt on 13 January 2010 and saw two men with handguns firing at a black Audi.
He told the High Court in Glasgow that the incident looked totally planned.
Ross Monaghan, 30, denies murdering Mr Carroll, a well-known gangland figure.
Mr McBride, 54, also told the trial he felt the gunmen had no intention of harming anyone else. He said they looked "gallus and confident".
Mr Caroll was found dead in the back of the black Audi.
Mr McBride said: "The shooting was over in 15 seconds. It just happened so quickly. I was just dumbfounded standing looking at it as if it wasn't happening. It was surreal.
"A few women were screaming, but I was just standing there.
"It looked as if it was totally planned. They had no interest in harming anyone else."
Mr McBride said he managed to note down the registration number of the gunmen's car.
Teacher Anne Mackintosh later told the court she had been too scared to look at the face of one of the gunmen who attacked the gangster.
She told jurors she looked away when she saw him begin to take off his mask after the shooting.
Mrs Mackintosh, who was parked 10 spaces away in the row next to Mr Carroll's car, had just finished putting her shopping in the boot of her car when she heard a VW Golf screech to a halt and saw masked gunman get out.
She told prosecutor Iain McSporran: "My eyes were transfixed on him, but I was aware there was also someone else."
'I was scared'
She was asked what the gunman did and replied: "I just walked in a kind of quick manner round to the car near where I was. I seemed a bizarre thing to be watching.
"He sort of disappeared from my sight and then there was an almighty series of what I thought were gunshots."
Mrs Mackintosh said she then crouched down.
Mr McSporran asked her: "Was that to make yourself as small as possible?," and Mrs Macintosh replied: "Absolutely. I was scared. I didn't understand what was happening. I moved from the back towards the front of my car.
"The gunfire seemed to go on for such a long time. The firing kept going on and on and on."
She told the court that after the firing stopped she became aware of the VW Golf coming towards her.
"I wondered if they were coming for me," she said. "I saw one of the gunmen get in the car only a few metres from me.
"He looked as if he was about to take his mask off he had a thumb under the bottom of the mask.
"I didn't want to be seen and I didn't want to see him, so I moved."
Ambulance technician Thomas McNulty told the court he saw Mr Carroll's body lying in the back of a black Audi A3 and described the wounds to his head and hand.
He said there were no signs of life.
Party poppers
Community club volunteer John Aitchison said that when he heard bangs he thought it was party poppers going off.
He said that there were a lot of women and children in the car park at the time.
Mr Aitchison said: "At first I thought there was a film crew there and they were filming something, but I realised something serious had happened when the security guards from Asda told people to keep away from the car."
It is alleged that while masked and acting with others, Mr Monaghan murdered Mr Carroll by repeatedly discharging loaded handguns at him, shooting him on the head and body.
Mr Monaghan is also accused, while acting with others, of attempting to defeat the ends of justice by disposing of a revolver, pistol and ammunition within undergrowth in Coatbridge and Airdrie, both North Lanarkshire.
It is also claimed a car - bearing false number plates YF55 EZZ - was set on fire.
Mr Monaghan also faces a number of firearms charges.
He denies all the charges against him and has lodged a special defence of incrimination, blaming William Paterson and seven others.
The trial, before judge Lord Brailsford, continues.