Neil Lennon joins Sir Ian Botham walk in Glasgow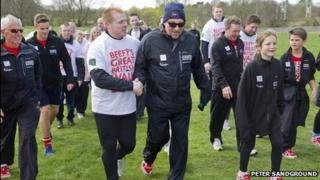 Celtic manager Neil Lennon has joined former cricketer Sir Ian Botham on the first leg of a charity walk.
Sir Ian, nicknamed Beefy, will walk 160 miles across the UK over the next 10 days in support of research into blood cancers such as leukaemia and lymphoma.
He started in Glasgow and will visit nine other locations before finishing at Ham House in London.
Young blood cancer patients also joined him on the walk.
Sir Ian's Great British Walk will raise money for the Leukaemia & Lymphoma Research charity.
During his playing days at Celtic, Lennon played alongside current Aston Villa midfielder Stiliyan Petrov, who was recently diagnosed with leukaemia.
The Celtic manager said his friend's battle has made the disease and its affects more relevant to him and the club.
He said: "I would have done the walk anyway but it's quite relevant now, and quite raw really.
"Stiliyan is going through his own battle now but the support he's had has been overwhelming and he's very positive at the minute."
Thursday's 10-mile walk started at Malmaison Hotel in Glasgow's West George Street and ended up at Drumpellier Park in Coatbridge, North Lanarkshire, where Sir Ian was joined by members of the public for the final four miles.
Before Sir Ian set off, he was handed a good luck card by four-year-old Rebecca Foley, who was diagnosed with acute myeloid leukaemia at only seven months old but is now in remission following treatment at Yorkhill Hospital.
Rebecca and Ben Magee, also four, who has acute lymphoblastic leukaemia, joined the walk as "local heroes".
Some 30,000 people are diagnosed with blood cancer such as leukaemia, lymphoma and myeloma in the UK every year.
In 1985 only 20% of children survived the most common form of childhood leukaemia.
But improvements in treatment mean more than 90% now survive the disease, according to Leukaemia & Lymphoma Research.
The charity said it has invested £2.4m in research into blood cancers in Glasgow, including at Yorkhill Children's Hospital.
'Incredible thing'
Sir Ian, the charity's president, said: "Stiliyan is an example of how indiscriminate leukaemia is. It doesn't care that you're captain of Aston Villa or played for Celtic or one of the fittest men on the planet.
"He's now having treatment in London and we hear it's all going well, but he's the one who will find it easiest to deal with. It'll be the family around him who are hit hardest and will be asking questions like: why him?
"There is no real answer but we are winning the battle and that's why we keep going".
The event is the latest in a series of long-distance walks Sir Ian has undertaken, which have raised millions for charity.
His first, in 1985, saw him trek 900-miles from John O'Groats to Land's End.
Speaking ahead of the walk's start, Sir Ian told BBC Radio's Good Morning Scotland programme: "The problem was, when we did much longer walks, the logistics of that nowadays with the volume of traffic and health and safety it was becoming just too hard to do.
"When I first got involved in 1977 I hadn't a clue what leukaemia was. I was a young sportsman with one thing on his mind - playing sport and getting as far up the ladder as he can.
"I broke a bone against the Australians and had to have treatment down in Taunton. I saw four young lads in the children's ward which I had to go through to get to the physio department.
"The doctor said they had leukaemia and they were going to struggle, and over the next six weeks of treatment sure enough all four of them had passed away, so that all brought it home to me."