Kevin 'Gerbil' Carroll: Friend arrived before police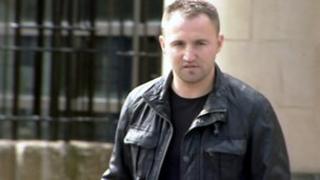 A friend of murdered gangland figure Kevin 'Gerbil' Carroll arrived at the scene of his shooting before the police, a court has heard.
Francis Green said he rushed to the car park of Asda in Robroyston, Glasgow, after receiving a phone call.
He told the jury he removed Mr Carroll's mobile phone from his body and ate two SIM cards which he did not want the police to have.
Ross Monaghan, 30, denies murdering Mr Carroll.
Phone call
At the High Court in Glasgow, Mr Green, who described himself as a car valeter, said he had known Mr Carroll for about 15 years and spoke to him every day.
However, Mr Green said he did not know what Mr Carroll did for a living.
The court heard that Mr Carroll's partner was Mr Green's sister Kelly.
At the time Mr Carroll was shot, Mr Green said he was in a house he was renovating in Milton of Campsie.
He said he got a phone call from one of the two men who had been with Mr Carroll.
All that was said in the phone call, he said, was "Gerbil's dead".
Mr Green said he was shocked and jumped into his red Audi, making the seven-mile journey to Robroyston in a matter of minutes - arriving before the police.
Mr Green said he went up to Mr Carroll's black Audi and went into the car to see if his friend was really dead.
He said he heard Mr Carroll's phone ringing and took it out of his pocket in case it was his sister calling.
He then kept hold of the phone.
Cross examination
Mr Green described how the police came and wanted to take his own personal mobile from him.
He said he had eaten his two SIM cards as they had material on them that he did not want police to have.
Mr Green said he then sat in the red Audi with the two men who had been with Mr Carroll at Asda - Stephen McLaggan and John Bonner.
He said they never spoke about what happened to Mr Carroll and he had never tried to find out since.
Under cross examination, it was put to Mr Green that he was in a better position to find out what had happened to his friend than the police.
He said that was not true.
In evidence, Mr Green denied that he was Mr McLaggan and Mr Bonner's boss and was giving them orders while they were in the Asda car park.
Defence QC Derek Ogg said: "This is contemptible nonsense from you. You were described by a witness as being the person who was taking the lead and was obviously the leader is that not the case?"
Mr Green replied: "No."
Det con Martin Conlan was asked by Mr Ogg: "Would it come as a surprise to you that a number of the public were of the impression that there was a boss there at Asda car park and that boss was Mr Green."
Det con Conlan said: "It would not."
Mr Monaghan denies all the charges against him and has lodged a special defence of incrimination, blaming William Paterson and seven others.
The trial, before judge Lord Brailsford, continues.