Christopher Knox: Teenagers jailed for schoolboy death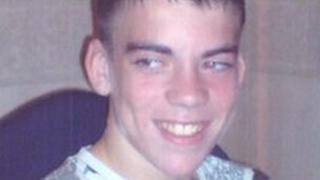 Two teenagers who were convicted of killing a 17-year-old schoolboy in Greenock have been jailed for a total of more than 30 years.
John McCowan, 17, was found guilty of murdering Christopher Knox by stabbing him in June 2011.
He was sentenced to life in prison with a minimum of 17 years and nine months behind bars.
David Paton, also 17, was convicted of culpable homicide. He was locked up for 13-and-a-half years.
An earlier trial heard Mr Knox was a witness in an assault and robbery case against Paton.
'Needless death'
Paton believed that Mr Knox was a "grass" and he was trying to intimidate him out of giving evidence in court.
Paton did not strike the victim but was convicted because he knew McCowan had a knife.
Sentencing the pair, Judge Rita Rae QC said the fatal attack was "appalling", causing a "needless death" just two days after the victim's 17th birthday.
It emerged McCowan was on bail at the time, charged with repeatedly stabbing another youth.
McCowan's QC, Gary Allan, said the thug "wished he could turn the clock back" and was "extremely sorry" for what happened.
Jim Keegan QC, defending Paton, said he had also "displayed remorse".
Judge Rae told McCowan: "You went out that night with the intention of violence, which makes you a very dangerous young man.
"You also wish to apologise - but those apologies come very late in the day."
Addressing Paton, the judge told him: "You hold the main responsibility for the attack on Christopher Knox.
"Your callous attitude to his parents after the stabbing was despicable."
'Without fear'
She also said witnesses should be able to give evidence "without fear or intimidation" and that those who do carry out threats would be dealt with severely.
Three other teenagers earlier pled guilty to reduced charges of assaulting Mr Knox, after originally being charged with his murder.
Sean O'Neill, 19, was jailed for four years after he admitted assaulting Mr Knox.
David Rice, 18, and Adam Johnston, 17, who also pleaded guilty to assault, had sentence deferred on them both for eight months to show good behaviour.