Kevin 'Gerbil' Carroll: Trial hears guns found in Coatbridge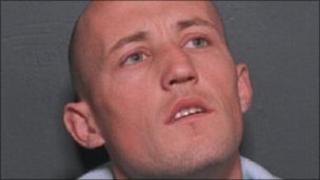 Two council gardeners have been telling the Kevin "Gerbil" Carroll murder trial of their shock at finding guns dumped in a shopping bag outside a library.
The workers were giving evidence at the trial of Ross Monaghan at the High Court in Glasgow.
The 30-year-old denies killing Mr Carroll in a car park at Asda in Robroyston, Glasgow, in January 2010.
The court heard the guns, found behind Coatbridge library in Lanarkshire, were the ones used in the shooting.
The men said they found the pistol and "cowboy style" revolver in undergrowth at the back of Coatbridge library in North Lanarkshire.
They told the court they had been clearing the area of rubble and foliage when they made the discovery on 26 January 2010.
Patrick McAuley, employed by North Lanarkshire Council, said: "I was lifting the bricks out and there was a plastic bag that was pretty clean and the two guns were wrapped in separate bags. They had been well hidden.
"I just took it as another bit of rubbish. I shook it and two guns fell out.
"They were wrapped up as well. We opened the other bags and realised they were two guns. I was kind of shocked."
He said he associated the discovery with the shooting of gangland figure Mr Carroll in a supermarket car park almost two weeks before.
The jury heard that both prosecution and defence agree that the guns found in Coatbridge were the ones used to shoot Mr Carroll.
Plastic bags
During the cross-examination of Mr McAuley, Mr Ogg said: "It so happens as a matter of fact and it is not in dispute that what you found were both the guns that were used for a murder."
The QC added: "There were found together, but in separate bags and put in a public place."
Mr McAuley replied: "Yes."
Mr McAuley's colleague, Alexander Wilson, told the court: "Pat turned around and said 'I've found some guns'. I said 'You're kidding me on?'.
"You don't expect to find guns outside libraries. I thought he was pulling my leg. I was flabbergasted."
The jury was told that the guns were taken out of the plastic bags they were wrapped in and handed around the two men, and four others they were working with.
Mr Wilson added: "Everybody had a wee look and everybody had a hold of them. They were passed about quite freely.
"I'd never seen a gun before."
Under cross-examination by defence QC Derek Ogg Mr Wilson said that police left behind one of the plastic bags that the guns had been wrapped in and he handed it in to them two days later.
The court heard that the police took away the work gloves of three of the men and Mr McAuley handed his in to police the next day, but none of them was forensically examined.
DNA contamination
Det Con Graham Begley, 37, told the court he went out to Academy Street, Coatbridge, and was shown a plastic bag. He said he could see a revolver sticking out of it.
He said he didn't touch anything and arranged for a firearms officer to examine the guns and for a police photographer to attend.
Under cross examination by Mr Ogg he was asked if he had realised one of the carrier bags wasn't recovered until two days later and replied: "I'm sure there are other items at the scene that weren't taken away."
Mr Ogg then asked if police handling guns would wear gloves and a mask to avoid DNA contamination and Det Con Begley said this was the case.
The defence QC then said: "These guns had been taken out of the bags they were wrapped in, handed round six workmen - some may have been wearing gloves and some not - from a DNA contamination point of view that's quite horrific, is it not."
The detective said: "Yes, I agree."
It is alleged that while masked and acting with others, Mr Monaghan murdered Mr Carroll by repeatedly discharging loaded handguns at him, shooting him on the head and body.
He is also accused, while acting with others, of attempting to defeat the ends of justice by disposing of a revolver, pistol and ammunition within undergrowth in Coatbridge and Airdrie, both North Lanarkshire.
He denies all the charges against him and has lodged a special defence of incrimination, blaming William Paterson and seven others.
The trial, before judge Lord Brailsford, continues.