Kevin 'Gerbil' Carroll: Gangster 'killed in 25 seconds'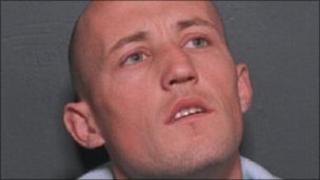 A murder trial has heard how gunmen took just 25 seconds to shoot dead gangland figure Kevin 'Gerbil' Carroll.
The jury at the High Court in Glasgow was shown footage of the gunmen's VW Golf arriving at Asda in Robroyston, Glasgow, at 13:23 and 17 seconds.
The car parked across Mr Carroll's black Audi A3 before someone is seen exiting then getting back in before the car drove off 25 seconds later.
Ross Monaghan denies killing Mr Carroll in the Asda car park in January 2010.
The 10 men and five women of the jury were also shown CCTV clips which showed Mr Carroll's last journey from Lennoxtown to Asda.
Arresting officer
The court heard from Det Con John Richmond, 43, who spent four months viewing CCTV footage following the murder.
Det Con Richmond said he had arrested Mr Monaghan on 30 July 2010 and charged him with murder.
The court heard that police - including firearms officers - arrived at the door of Mr Monaghan's home in Penilee at 04:00. Mr Monaghan's long-term partner was in the house at the time, and an ambulance had been called because of her long-term health problems.
The jury was also shown footage taken from the police helicopter which arrived on the scene of the shooting at 13:42pm.
The film showed Francis 'Fraggle' Green twice going into the car in which his friend Mr Carroll was lying dead on the back seat.
Armed response
The defence QC asked: "Would it have been evident to anyone that Gerbil is dead? Can you think of any first aid reason for Mr Green to go into the car twice?" and DC Richmond replied: "No, none at all."
At 13:43 the first police officer was seen arriving and then armed response officers appeared within seconds and began cordoning off the area around the black Audi.
Two paramedics were also seen on the footage heading towards the car.
It is alleged that while masked and acting with others, Mr Monaghan murdered 29-year-old Mr Carroll by repeatedly discharging loaded handguns at him, shooting him on the head and body.
Mr Monaghan is accused of - while acting with others - attempting to defeat the ends of justice by disposing of a revolver, pistol and ammunition within undergrowth in Coatbridge and Airdrie, both North Lanarkshire.
It is also claimed a car - bearing false number plates YF 55 EZZ - was set on fire.
Mr Monaghan also faces a number of firearms charges.
He denies all the charges against him and has lodged a special defence of incrimination against eight people.
The trial before judge Lord Brailsford continues.