Abandoned Glasgow mines could provide 40% of city heat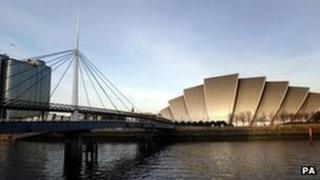 Almost 40% of Glasgow's heat could be provided by tapping into waters from abandoned mines underneath the city, according to the British Geological Survey (BGS).
The BGS is working with Glasgow City Council to identify which areas of the city could supply geothermal energy.
They believe this new source of energy could help Glasgow meet government targets to lower carbon emissions.
The city is aiming to provide 11% of heat from renewable sources by 2020.
In a report on the potential for geothermal heating in Glasgow, the BGS said the city's miners had left a "valuable inheritance" in the form of waters now held in the shafts and tunnels underneath the ground.
It said heat pumps, which work in the same way as fridges, could be used to "concentrate" heat energy from minewaters, making the water hot enough to heat buildings.
The heat could then be removed and used to warm properties.
A small scheme using mine water to heat 17 houses in Shettleston has been running for more than 10 years.
Glasgow City Council and the BGS now want to extend this scheme to cover a larger proportion of the city and are calling on developers and local communities to come forward and identify possible projects.
The BGS has created digital 3D models of Glasgow to identify the most suitable areas.