Freeze-prone water pipes in Leadhills replaced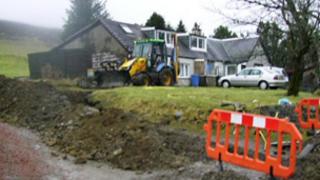 Scottish Water has said work on freeze-prone water pipes in one of Scotland's highest villages has been completed.
The £476,000 project was ordered after repeated instances of the supply in Leadhills being cut off during severe weather.
It involved replacing entire sections of the supply pipes in the South Lanarkshire village.
The replacement sections consist of wider pipes, which have been laid at greater depth.
Jacky Wang, the project manager, said: "While the most recent winter was relatively mild, the previous Big Freeze is still very fresh in most people's memories.
"According to the most recent 30-year climate period of 1981-2010, Leadhills is the coldest village in the UK.
"It was during the Big Freeze that the problems with the water mains in Leadhills were exposed.
"Historically those water mains were laid at a depth which does not meet the modern standards. As a result, they were prone to freezing during cold weather."