Go-ahead for new woodland planting at Lang Craigs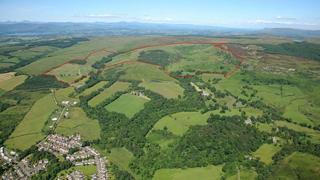 Work will get under way in the autumn to create a new native woodland in West Dunbartonshire after the project secured more than £1m in grant funding.
The cash will allow the Woodland Trust Scotland to plant more than 200,000 trees at the Lang Craigs site, north of Dumbarton, over the next 15 years.
The finished community resource will be a mix of native woodland and pasture.
Final funding came from the European Union and Scottish government's Scotland Rural Development Programme.
The grant will cover costs for establishing the new wood, future maintenance and access.
'Fantastic opportunities'
The Woodland Trust hopes that in as little as 12 years, the site will be transformed into a flourishing woodland that will provide a home for wildlife.
The project also aims to create a community green space which can be used for family days out, rambling and picnics.
Woodland Trust Scotland director Carol Evans said: "Years of neglect have dulled much of its magnificence but Lang Craigs offers fantastic opportunities for native woodland creation.
"Scotland is desperate for new native woodland - it is one of our best habitats for wildlife, but surprisingly, is a scarce resource with only 4% cover across the country.
"Lang Craigs has the potential to become an intrinsic part of the community and local people will be involved at every stage of the site's evolution."