Boxer Grant Quigley on probation for assaulting Thomas Thruel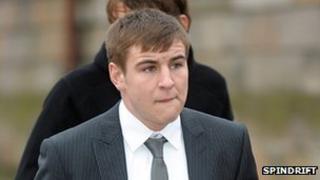 A young champion boxer has been given three years probation and ordered to carry out 200 hours community service for attacking another teenager.
Grant Quigley was convicted of assaulting Thomas Thruel, 19, in Port Glasgow, Inverclyde, in November 2010.
The 17-year-old recently won silver at the Commonwealth Youth Games.
Co-accused Lee Doherty and Michael Murray, both 18, were also put on probation and ordered to carry out community service.
Quigley had originally faced a charge of attempting to murder Mr Thruel but a jury at the High Court in Glasgow found him guilty of a reduced charge of assault to danger of life.
CCTV footage
During the trial, Quigely's lawyer claimed that his client had been bullied at school by Mr Thruel, but that was disputed by the prosecution.
The court was told how Quigley punched and kicked Mr Thruel as he lay on the ground.
The attack, at a roundabout in Brown Street, Port Glasgow, was captured on CCTV and the footage was shown in court.
When Quigley, from Port Glasgow, appeared for sentence at the High Court in Edinburgh, judge Lord Glennie said: "The fight began as a reaction to what you saw as a real threat by Thomas Truel."
The judge continued: "Boxers require self discipline but you lost it completely on this occasion.
"That perhaps was testimony to the provocation and fear under which you were acting."
The judge also told Quigley and his two companions: "The assault, you need not be reminded, ended with Mr Thruel lying on the ground bruised and bleeding and having to be taken to hospital.
Licence withdrawn
"The fact that he was able to discharge himself from hospital owes more to chance than to restraint on your part."
Lord Glennie also told Quigley that the loss of his boxing licence following his conviction had been a punishment which would damage his future prospects.
He also told the three teenagers that no-one would benefit if they were locked up.
Doherty, from Stirling, was put on probation for two years and ordered to carry out 120 hours unpaid work.
He had admitted during the trial that he had assaulted Mr Truel to his injury and had pushed Mr Truel's girlfriend and thrown away her mobile phone.
Murray, from Port Glasgow, was also put on probation for two years and ordered to carry out 150 hours unpaid community work for assaulting Mr Thruel.