Revamped Maryhill Burgh Halls set to reopen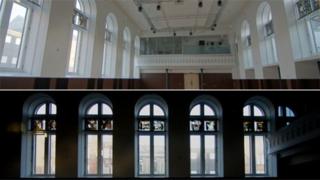 A 134-year-old historic building in Glasgow is set to re-open to the public after undergoing a £9.6m restoration.
Maryhill Burgh Halls was built as a seat of municipal government in 1878. By 2001 it was derelict and placed on the city's buildings at risk register.
Restoration work, started in 2009, has now created a modern public hall with office space, a recording studio, nursery, and a courtyard garden.
The award-winning project will be officially re-opened on Thursday night.
Maryhill Burgh Halls Trust led the project to raise funds for the restoration of the building.
The Trust attracted major investment from the European Regional Development Fund, the Scottish government, the Heritage Lottery Fund and Glasgow City Council.
'Magnificent building'
Part of the revamp saw a collection of 20 stained glass windows conserved and returned to the Burgh Halls.
The windows were removed in 1963 with most being kept in storage at the Burrell Collection.
Irene Scott, chair of Maryhill Burgh Halls Trust, said: "The 26th of April is an extremely significant date because exactly 134 years ago the halls were first opened.
"The significance of the occasion comes from the aspirations of the many local people, who fought so hard over many decades to see this magnificent building saved and now re-opened.
"Perhaps the most important dimension of all about this building is that it is here for the benefit of the community to use and enjoy in the years ahead."
In November 2010, the project was awarded a prize for best contribution to urban regeneration in Scotland through the use of European funds.
In March 2012, it won the Scottish Civic Trust's MyPlace award.
Culture Secretary Fiona Hyslop said: "Maryhill Burgh Halls Trust has carried out a magnificent job in both delivering this project and in providing a sustainable future for such an iconic local building."
"Buildings such as the Burgh Halls sit at the core of Scotland's cultural identity and, together, they form part of Scotland's unique contribution to the world's built heritage."
Glasgow Lord Provost, Councillor Bob Winter, added: "I am now absolutely delighted to see the wonderful job that has been done in restoring the Burgh Halls to full modern standards, while retaining wonderful features like the historic artistic stained glass.
"I am confident that Maryhill Burgh Halls will again be a much-used and much-loved venue and resource at the heart of this great community."