Tobermory lifeboat and Dutch warship rescue sail training vessel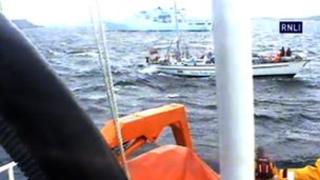 A sail training yacht - with 11 youngsters and five crew on board - has been rescued in heavy seas off Iona by a Scots lifeboat and Dutch warship.
The Alba Venturer was left drifting without power after it became snagged in lobster creel ropes on Thursday.
The Tobermory lifeboat managed to cut the vessel free and tow it to the Isle of Kerrera, near Oban. No-one on board was injured.
The RNLI crew were aided by the Royal Netherlands Navy warship, Friesland.
It was in the area at the time taking part in a NATO exercise.
When the lifeboat returned to Tobermory after the operation, the crew had spent more than 10 hours at sea and travelled just under 100 miles.
'Challenging conditions'
Deputy Second Coxswain Andrew McHaffie said: "When we launched we expected this to be a routine towing operation.
"However, when we arrived on scene we were confronted not only with very challenging conditions with a two metre swell but we were also very aware that there were young people on board the sail training vessel in rough seas.
"It was vital that we got the vessel under tow as quickly as possible. This was a long rescue but with a very successful outcome.
"We'd like to thank the crew of the Dutch warship Friesland for their assistance."