Rare Hermes bag among wife's collection being auctioned for charity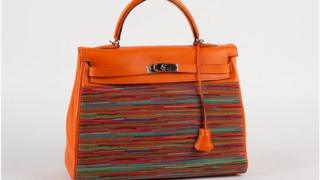 A husband is auctioning off his late wife's beloved collection of designer handbags for charity.
George Irving, 59, from Greenock, is selling nine of his wife Eleanor's bags to raise money for the organisations that supported her while she was ill.
Included in the collection is a rare £3,000 Hermes Kelly bag, plus others from Gucci and Louis Vuitton.
The auction, which is being held in Glasgow on 3 May, is expected to raise thousands of pounds.
The charities set to benefit include Ardgowan Hospice, MacMillan nurses, Marie Curie Cancer Care and Inverclyde Royal Oncology Department.
A selection of Mrs Irving's jewellery including a necklace from Tiffany's will also be on sale the day before.
Mrs Irving's love for handbags began during a trip to Capri when she spotted a Gucci bag in the window.
Confessing to her husband that she had always wanted a designer bag, he took her in and bought it for her.
Over the years, her passion for handbags grew and in 2007 her husband gave her a Hermes Kelly bag for their 25th wedding anniversary.
The Kelly leather bag is named after Hollywood star and Princess of Monaco, Grace Kelly.
Mr Irving said: "She absolutely loved her Kelly bag.
"She kept it in pristine condition and even kept the buckles wrapped in plastic to ensure it was never damaged.
"All four of the charities we're raising money for did so much for Eleanor while she was ill and towards the end of her life, that I felt I had to do something in her memory."
Brian Clements, a director at McTear's Auctioneers, said: "Hermes bags in particular have been amongst the most sophisticated and desirable accessory for decades with long waiting lists needed to accrue one.
"We have had Eleanor's bags on display along with her beautiful jewellery and it really is a wonderful collection.
Over the years French fashion house Hermes has remained one of the most fashionable and high end producers of leather bags, which are loved by celebrities such as Victoria Beckham, Jennifer Aniston and Jennifer Lopez.