Residents of Coll in bid for first 'dark isle' status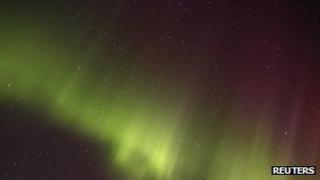 Residents on the Isle of Coll are hoping the night sky could hold the secret to a healthy tourism industry.
They are applying for Coll to become Scotland's first dark skies island and are confident they will be awarded the designation this summer.
If successful, the isle would join Galloway Forest Park in the south of Scotland as an official dark sky site.
Coll has no street lights and very little else in the way of light pollution.
Islanders said it also tended to have a higher number of clear nights than many other parts of the Scotland's west coast.
Residents hope having dark skies status will help attract keen astronomers outside the peak tourism season.
They have already begun monitoring light output and early indications suggest it was well within the range required for the designation.
'Absolute blanket'
Paula Smalley who runs the Tigh na Mara guest house is one of those involved in the project.
She said "Our tourist season as it stands right now is very much confined to the summer months, so to extend that season and bring people in through the winter will help benefit many local people."
"We are lucky in the winter months in that we do often have beautiful crisp cloudless nights.
"We can have some of the most amazing displays of the Northern Lights and the Milky Way is very often visible.
"It's an absolute blanket here on a clear night and we do get many of them it's not just wet windy cloudy and miserable."