Mahle workers in Kilmarnock reach deal over jobs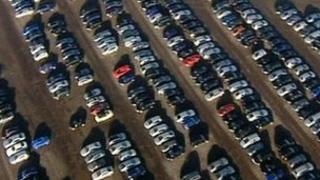 Workers at an engineering firm in East Ayrshire say they have reached a deal over a threat to 260 jobs.
Members of the Unite union at Mahle Engine Systems in Kilmarnock had staged strike action over the potential transfer of jobs to Italy and Slovakia.
The union now says it has an agreement with the German auto giant to ring-fence previously threatened production for the next 14 months.
More than 500 people are employed at the Kilmarnock site.
Last October the company announced it would have to cut 61 jobs after it lost a contract with Ford worth an estimated £4m a year.
Jobs threat
Mahle said it would phase out its relationship with the car giant by 2012/13.
Workers at the plant were then told in November that a further 72 jobs were under threat over plans to transfer some production to other sites in Europe.
The Unite union claims indications about the potential offshoring of jobs were then made which could have endangered manufacturing at the Kilmarnock site and threaten up to 260 jobs.
Last month, members voted in favour of industrial action which saw workers walk out last week.
Unite said on Tuesday that a deal with management had now been reached.
The new provisions are said to include commitments on the plant being able to quote for new contracts immediately and ring-fencing previously threatened production for the next 14 months.
These were tabled following last week's strike action and accepted by 77% of the workforce on a consultative ballot.
Unite regional officer Jim Winter said: "This is a significant breakthrough for the Kilmarnock workforce and represents a fresh opportunity for them to preserve their world class jobs and skills.
"Ten months ago senior management dismissively said to us the Kilmarnock plant did not have a future.
"Today we have an agreement in place that should change the industrial relations climate and enable all parties to work together to sustain profitable manufacturing."