Care worker sacked for feeding dementia patient dog biscuit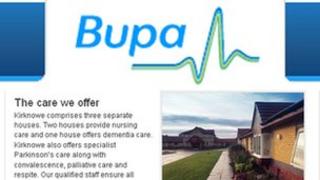 A care assistant at a Bupa-run home in North Lanarkshire has been sacked for feeding a dog biscuit to a man with severe dementia, it has emerged.
The incident happened last year during a dog therapy session for residents at the Kirknowe home in Wishaw.
During the event, the female worker gave one of the biscuits, which are not for human consumption, to the resident.
A spokesman for Bupa said it was an unfortunate but isolated incident and the staff member involved was sacked.
Kenny Valentine, Bupa Care Services Director, Scotland, said: "This was a very unfortunate but isolated incident that took place last year during a therapy session involving a dog.
"We immediately launched an investigation and the member of staff was dismissed.
"We apologised to residents and their relatives at the time."