Patrick Cumberland jailed for stabbing James Morrow in Glasgow hostel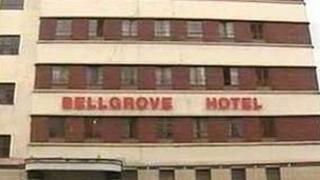 A man who almost killed a resident at a homeless hostel with a knife has been jailed for six years.
Patrick Cumberland, 31, stabbed 43-year-old James Morrow at the Bellgrove Hotel in Glasgow's Gallowgate area in November 2011.
The High Court in Edinburgh heard that Cumberland attacked Mr Morrow over an unpaid drug debt.
Judge Lord Woolman also ordered Cumberland to be supervised for two years on his release from prison.
The court heard that Cumberland had planned to stab Mr Morrow.
He hid a knife in the back of his trousers then started a fight in the hostel's TV room before stabbing Mr Morrow in the neck.
Police were called to the scene and Mr Morrow was taken to Glasgow's Royal Infirmary Hospital, where medics managed to save his life.
Cumberland later pleaded guilty to a charge of attempted murder.