Nasserdine Menni on trial in Scotland over Stockholm explosion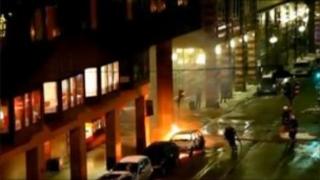 A man has gone on trial charged with being part of a terrorist conspiracy which led to an explosion in Stockholm.
Nasserdine Menni denies acting with Taimour Abdulwahab Abdaly, who is now dead, to plan the explosion in December 2010.
He also denies transferring money to Abdaly, knowing that it would be used for terrorist purposes.
Mr Menni's trial at the High Court in Glasgow is expected to last for up to three months.
Abdaly, from Luton in Bedfordshire, died in the Swedish capital in December 2010.
Car fire
Mr Menni is accused of acting with him to further terrorist aims by criminal and other means including the use of explosive devices.
This offence is alleged to have been committed between 1 January 2003 and 8 March 2011 at addresses in Glasgow, England, Sweden, Syria and Iraq.
Swedish police officer Karl Viktor Andersson was the first witness to give evidence.
He told how he was called to attend at the scene of a burning car in Stockholm's busy city centre on 11 December 2010.
The officer recalled a member of the public then stopped him to say there had been an explosion.
Mr Andersson said he went towards the area of the blast and added: "We just passed the corner and there was a body lying on its back with the intestines outside the body."
The 32-year-old told prosecutor Andrew Miller he initially thought the male had fallen while clearing snow from a roof.
Mr Andersson said he then noticed a window of a nearby shop was "entirely wiped out" due to the blast.
He went on: "At that point I decided to clear the area. If it had been an explosion, it might not have been safe to be there."
Explosive device
Mr Miller asked: "Did you speak or attempt to speak to him?"
The witness replied: "He was not in any shape to speak. One eye was open, but he was quite badly injured."
Another Swedish officer - Det Insp Rodger Skoglund - also recalled being at the scene and seeing a man on his back covered by a blanket.
He added: "Around him were a number of small loose items which looked like small pipe bombs that had not gone off."
The police technical investigator said there was a small pot in front of the man that had detonated.
He told the jury: "Before I left I instructed the bomb squad to turn the man over and collect the pipe bombs around him because it wasn't safe."
It is alleged that Abdaly detonated an improvised explosive device with intent to murder members of the public.
The charge against Mr Menni, who had been living in Glasgow, has various claims including an accusation that he repeatedly communicated with Abdaly to discuss means by which to pursue the conspiracy.
Mr Menni is also said to have transferred money to an account in the name of Taimour Abdulwahab.
The trial, before judge Lord Matthews, continues.