Adrian Wiszniewski exhibition depicts love life of Robert Burns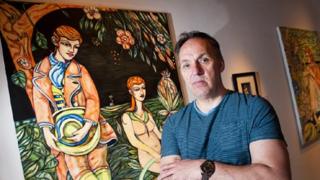 An exhibition of paintings based on the controversial love life of Robert Burns opens to the public this weekend.
The Man Who Loved Women is a collection of 12 new oil paintings, all produced in the last year, by Scottish artist Adrian Wiszniewski.
They are going on show at the Robert Burns Birthplace Museum in Alloway, Ayrshire.
Mr Wiszniewski admitted that when he was young he found Burns off-putting but has now been "converted".
The Glasgow-born artist first came to prominence in the early 1980s as a member of the "New Glasgow Boys" who challenged the dominance of abstract, minimal and conceptual art.
He is known for his colourful figurative work.
He said a tour of the Birthplace Museum gave him a newfound appreciation for Burns.
"I have been converted, " he said.
True romantic
"When I was young I felt that Robert Burns was very much a symbol of the establishment which I found off-putting. I genuinely enjoyed reading his poetry and now see him quite differently.
"Burns embodies the modern man of today despite living in the 18th century. He was in touch with his feminine side and unafraid to take a women's perspective.
"His love of women was genuine and core to his life. He was the true romantic."
Burns is well-known as a philanderer - he fathered 13 children, three of which were by women other than his wife, Jean Armour Burns.
Every painting in The Man who Loved Women tells a different story, some romantic, some tragic, and Mr Wiszniewski said the work was "ongoing" as he is not yet ready to finish telling the story of Robert Burns.
The exhibition runs till the end of August.