Administrators deny delaying police probe into Rangers takeover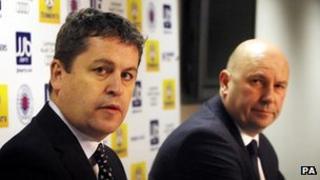 Rangers' administrators have denied turning down or dragging their heels over police requests for information about Craig Whyte's takeover.
Duff and Phelps said recent media reports had wrongly given the impression that paperwork had not been passed to the police.
The firm said no request had been "denied nor delayed in any way".
Strathclyde Police confirmed it had written to the administrator requesting relevant documentation be handed over.
'Co-operating fully'
Joint administrator David Whitehouse said: "Over the last few days media reports have referred to police interest in the circumstances surrounding the takeover of Rangers Football Club in May last year.
"In particular, an impression has been given that we as administrators are in possession of information which may be of interest to the police but, to date, we have not provided.
"Since being appointed administrators in February, we have had a number of meetings with Strathclyde Police and are co-operating fully with them.
"At no time has any request for information from the police been denied, nor delayed in any way."
Mr Whitehouse said that as far as Duff and Phelps were aware, a decision had yet to be taken on whether the investigation would fall within the jurisdiction of Strathclyde Police or the Metropolitan Police in London.
He added: "We look forward to that decision being made and will co-operate fully with any investigation.
"It should also be noted that we have instigated civil proceedings at the High Court in London in relation to the takeover of Rangers."
Strathclyde Police said in a statement: "We can confirm that we have written to the administrators requesting relevant documentation be handed over to us.
"We have always had, and continue to have, a very good relationship with the administrators and we await further correspondence from Duff and Phelps in relation to the matters outlined in the letter."
Mr Whyte bought Rangers last May for £1 from Sir David Murray.
The Ibrox club entered administration in February over unpaid tax. It has since emerged that the total liabilities facing the club could be about £134m.
Last month, Sir David Murray's company, MHL, agreed to hand over copies of its correspondence with Mr Whyte's lawyers, Collyer Bristow, over the sale of Rangers.
Duff and Phelps are suing Collyer Bristow for about £25m over the firm's handling of the takeover in May 2011.