ID card found on alleged Stockholm suicide bomber Taimour Abdulwahab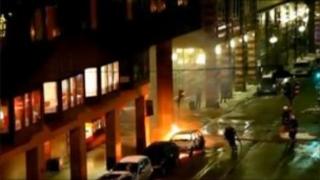 Personal documents of an alleged suicide bomber were discovered next to a body following an explosion in Stockholm, a court has heard.
An international driving licence and ID card in the name of Taimour Abdulwahab were found after the blast in the Swedish capital in December 2010.
The evidence was heard at the High Court in Glasgow.
Mr Menni denies being part of a terrorist conspiracy along with Abdulwahab, who died in Stockholm.
Det Insp Rodger Skoglund - who attended the scene in the aftermath of an explosion on 11 December 2010 - returned to the witness box on Tuesday.
Swedish ID card
The police technical investigator was again shown photographs taken after the explosion, which included one of a dead man lying in the street.
The court heard how there were personal documents discovered next to the individual, who it was said had wires and a bag strap around him.
DI Skoglund said one was a Swedish identification card.
The jury heard it contained a photograph of a man and the name Taimour Abdulwahab.
It also had an address in a city 300 kilometres from Stockholm.
The other item was an international driving document which again had the name of Abdulwahab.
This time there was an address in Liege, Belgium, listed.
Metal balls
The court also heard that over 400 small metal balls were found after the blast.
DI Skoglund said: "A large proportion were chrome and magnetic. Some of these had to stuck to each other and formed different formations.
"Other small balls of the same size were rusty and did not give the impression of being magnetic."
The jury was also told that a burnt out white Audi car was discovered in another area of the city centre, near the body.
Mr Menni is accused of acting with Abdulwahab to further terrorist aims by criminal and other means including the use of explosive devices.
This offence is alleged to have been committed between 1 January 2003 and 8 March 2011 at addresses in Glasgow, England, Sweden, Syria and Iraq.
It is alleged that Abdulwahab detonated an improvised explosive device all with intent to murder members of the public.
The charge against Mr Menni, who had been living in Glasgow, has various claims including an accusation that he repeatedly communicated with Abdulwahab to discuss means by which to pursue the conspiracy.
Mr Menni is also said to have transferred money to an account in the name of Taimour Abdulwahab.
He denies the charges against him. The trial, before Judge Lord Matthews, continues.