Garry Smith admits murdering Graeme Ferry and burying body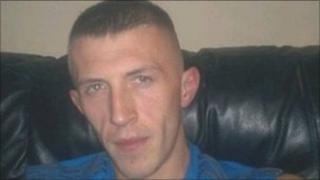 A man has admitted murdering a landscape gardener and dumping his body in an unmarked grave in Lanarkshire.
Garry Smith, 34, killed 24-year-old Graeme Ferry, who was his friend, by means unknown on 2 April last year.
Andrew Shilliday, 38, and Michael Archibald, 31, had not guilty pleas accepted by the Crown. Shilliday admitted helping to conceal the body.
Sentence on Smith and Shilliday was deferred at the High Court in Glasgow and both were remanded in custody.
The court heard that on 2 April last year Shilliday, Smith, Mr Ferry and a fourth man, Michael Archibald, were celebrating Smith's birthday at a house in John Bowman Gardens, Bellshill.
Body moved
They left in the early hours in a car and a row developed between Smith and Mr Ferry and they got out of the car.
Smith later told police that he and Mr Ferry got in a fight. Smith said he hit him with a bottle on the face and then kicked and punched him on the head.
When he walked back to see where Mr Ferry was, he saw he was lying face down in a puddle dead.
The court heard that Smith hid Mr Ferry's body before returning a couple of days later with a man, who he refused to identify, and moved the body using Shilliday's car.
Mr Ferry was dumped naked in a makeshift grave dug out at a landfill site.
Bricks and slates had been positioned round his head and a large concrete slab was placed over the top directly on his face.
For five months after the murder, Smith kept up the pretence that Mr Ferry was still alive and even phoned his mother asking if there was any news.
The court heard that Mr Ferry was always constantly on his mobile phone and his family became concerned when all phone contact ceased after the early hours of 2 April last year.
Advocate depute Iain McSporran, prosecuting, said: "By April 4 his mother had become very concerned, not only that her son had not come home, but he had not phoned her or anyone else.
Telephone contact
"Police commenced a missing person's enquiry. In the days following 2 April, Smith made telephone contact with a friend of Mr Ferry, during which he spoke to his mother.
"He enquired as to whether she'd seen him, apparently, with a view to establishing in the minds of any enquirer that Smith believed Mr Ferry was still alive and well at a time he knew him to be dead and buried.
"Mr Ferry's mother feels particularly bitter and aggrieved that a man thought to be a friend of her son would play so cruel a trick on her.
"For five months she entertained hopes that he might yet be found alive, before Smith eventually confessed the truth."
Smith finally confessed to police what he had done in September last year.
He told them: "It's all down to me. I'll tell you everything. I'll show you where the body is. It's all down to me."
He took police twice to where he thought the body was buried and on the second occasion Mr Ferry's remains were discovered in an area of wasteland at Chapelknowe Road, Cleland.
Mr McSporran told the court: "In the opinion of Dr Jennifer Miller, an expert in forensic archaeology, who directed efforts to locate and recover the body, a great deal of effort was taken in the concealment of the body."
The court heard that Smith, from Bellshill, also pleaded guilty to attempting to defeat the ends of justice by concealing the body.
Victim statements
Shilliday also admitted attempting to defeat the ends of justice by lending his car to Smith to dispose of the body.
The court heard that Mr Ferry's mother, who suffers serious ill health, suffered mental anguish due not only to his death and the manner of it, but because for five months she had no idea what had happened to him.
Victim impact statements from Mr Ferry's mother and father were handed to judge Lady Stacey.
In her statement Mrs Janette Ferry said: "Graeme wasn't just my son, he was my friend and my carer. His death has left a great hole. Some days I cry and there are other days when I am numb."
The court heard that Mrs Ferry suffered a break down and for a year would not accept that her son was dead.
Lady Stacey remanded Smith and Shilliday in custody and deferred sentence on them until next month for background reports.
Smith faces a mandatory life term, but the judge will decide how long he must spend in jail before being eligible for parole.