NHS Greater Glasgow and Clyde criticised over fall patient's care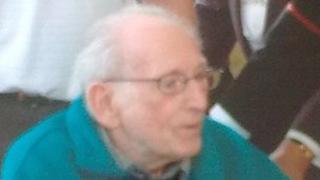 A health board has been ordered to apologise to the family of an elderly man sent home from hospital in winter in his shirt, trousers, dressing gown and one slipper.
David Spelman, 85, had hip replacement surgery at the Southern General in Glasgow after a fall in February 2011.
Days after being discharged he fell again and died shortly afterwards.
Scottish Public Sector Ombudsman, Jim Martin, upheld four complaints from his family about the care he received.
Mr Spelman was admitted to the Southern General on 10 February last year. He was then discharged on 24 February two days after under going hip surgery.
Two days later he fell again, reopening his surgery wound.
He died on 19 March. The ombudsman said his death could not be attributed to his discharge.
According to Mr Martin's report Mr Spelman's family complained that he was not properly dressed when he was discharged.
His son, David, told BBC Scotland: "When he came to the door he was absolutely freezing.
"He had a dressing gown on, a polo-shirt, a pair of trousers and a paper slipper on his foot. His other foot was bandaged.
"His clothes were still back in the hospital."
The ombudsman found the patient could have been properly dressed had staff properly checked his belongings.
The report revealed that a paramedic handed the son his father's suitcase "which contained his outdoor jacket, a hat, jumper and outdoor shoes".
Mr Martin stated: "I find that this was an unfortunate incident which could well have been avoided if staff had taken the time to check through his belongings properly and dress him suitably for the winter weather."
He added: "It was not acceptable that an elderly and frail man was discharged from the hospital dressed in this manner."
Lessons learned
The family also complained that Mr Spelman's condition deteriorated after he was discharged.
They said the decision to release him could have been harmful and his second fall could have been prevented had his "needs been properly considered".
The patient also suffered from poor balance and could not use the walking frame he was given following the operation, said the family.
Mr Martin concluded that the health board did not "reasonably consider" whether the patient should have been released.
NHS Greater Glasgow and Clyde said: "We have now received the Ombudsman's full report and accept the recommendations made in the report.
"A formal letter issued to the Citizen's Advice Bureau, who were acting on behalf of the family, offered our condolences and accepted there were lessons that had to be learned.
"Following receipt of the Ombudsman's report a further letter is now being sent direct to the family in which we offer our full apologies."