Explosion footage shown at trial of Nasserdine Menni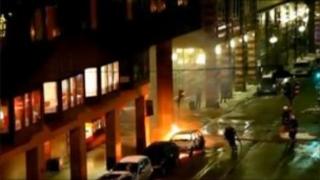 Jurors at the High Court in Glasgow have been shown footage of an explosion in Stockholm the night an alleged suicide bombing occurred.
The CCTV recording showed shoppers running for safety in the Swedish capital's busy city centre following the blast on 11 December 2010.
The clip was played at the trial of Nasserdine Menni.
He denies being part of a terrorist conspiracy along with Taimour Abdulwahab, who died in the explosion.
The court heard from 42-year-old Naresh Lakhwani, who owns a watch shop near to where the incident occurred.
'People panicking'
Footage of that evening - captured on his store's CCTV cameras - was handed over to police following the blast.
The film was played to the jury and prosecutor Andrew Miller said "a flash of light" could be seen and "smoke emerging".
Mr Lakhwani replied: "As you can see people are panicking."
The witness recalled how he left his shop after the explosion and was the first to approach an injured man lying on the ground.
He remembered seeing a Palestinian shawl around his neck and the person had a "middle Eastern" look.
He added: "As a human being, I approached him to try and help. As soon as I came close. I saw that the stomach was open and there were body parts next to it, so I realised something was seriously wrong."
The shop-keeper called the emergency services before moving away from the body while trying to warn others to stay away.
Mr Menni is accused of acting with Abdulwahab to further terrorist aims by criminal and other means including the use of explosive devices.
This offence is alleged to have been committed between 1 January 2003 and 8 March 2011 at addresses in Glasgow, England, Sweden, Syria and Iraq.
It is alleged that Abdulwahab detonated an improvised explosive device all with intent to murder members of the public.
The charge against Mr Menni, who had been living in Glasgow, has various claims including an accusation that he repeatedly communicated with Abdulwahab to discuss means by which to pursue the conspiracy.
Mr Menni is also said to have transferred money to an account in the name of Taimour Abdulwahab.
He denies the charges against him. The trial, before Judge Lord Matthews, continues.