'No decision' on successor to Archbishop Mario Conti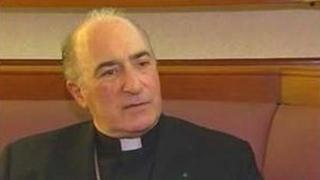 The Catholic Church in Scotland has said it has not heard from the Vatican if a successor has been appointed to Archbishop Mario Conti.
Reports suggest that Archbishop Conti will retire soon to be replaced by the Bishop of Paisley, Philip Tartaglia.
There has been no confirmation, however, from Rome if that is the case.
Bishops tend their resignation at 75, which Archbishop Conti did in 2009. He was asked to stay on and is now the second oldest serving Bishop in Europe.
Archbishop Conti was born in Elgin, Moray, in 1934 and studied for the priesthood at The Scots College in Rome.
He was ordained a priest of the Diocese of Aberdeen in 1958 and appointed bishop of Aberdeen in 1977.
Bishop Conti became an archbishop in 2002 when he moved to the the archdiocese of Glasgow, following the death of Cardinal Thomas Winning the previous year.