Making a mark: The life and legacy of George Wyllie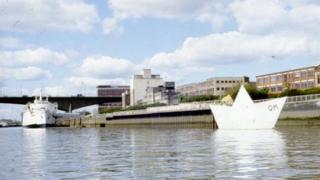 Many artists prefer to let their art do the talking - but not George Wyllie.
He loved to talk - about his work, about what people thought of the work, about everything and anything really.
He liked to describe himself as a scul?tor - the question mark, he suggested, was too important to leave to the end - and most of his work questioned the world, and art itself.
He was fun - and funny.
Musical as well as artistic, you were often as not treated to a song as well as a work of art.
Late interest
That made his work both popular and accessible, but also worked against him.
Despite earning a place in European art - alongside Joseph Beuys, with whom he collaborated - he was often dismissed as a local artist.
It took campaigners until this, his 90th year, to persuade national organisations to support a year-long festival of George's work.
Only last week, the Scottish government and Creative Scotland announced funding for a paper boat project involving 500 schools making little versions of George's big paper boat.
The plan is to sail the little boats down the Clyde to mark George's 91st birthday on Hogmanay.
He won't be around for that, but he was at least around for the start of the Whysman Festival - even if he was somewhat baffled by the sudden flurry of late interest in his work.
Art, he said, was about people and places - and that continues to be George Wyllie's greatest legacy.