Man jailed over forklift ram raid in North Lanarkshire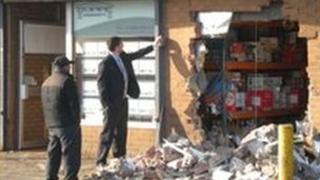 A man who tried to steal a cash machine using a forklift truck has been jailed for six and a half years.
Richard McGrath, 32, admitted - while acting with others - to targeting the Londis Stores in Cleland, North Lanarkshire, on 4 November 2008.
McGrath also admitted going on the run and failing to turn up for trial.
At the High Court in Glasgow he was jailed for five years and six months for the robbery bid and a further year for failing to turn up for trial.
McGrath admitted his part in attempting to steal the ATM machine and £15,880 in cash.
Banging and scraping
The court heard that McGrath and at least two others tried to smash the cash machine out of the wall at 02:15.
People in neighbouring houses were wakened by banging and scraping sounds as the bucket of the forklift truck smashed into the wall.
The gang also had the yellow flashing lights on top of the machine activated.
Police were inundated with calls from people who were woken by the crashing and thumping. A passing taxi driver also dialled 999.
Advocate depute Stephen O'Rourke, prosecuting, said: "At least three people were involved in the attempted theft and only Mr McGrath was caught.
"One woman living nearby looked out her window after hearing the noise and noticed there was a hole in the wall.
"She said there were three males and they appeared to panic when they saw her watching them.
"The woman went inside and phoned the police. When she looked again the digger was inside wall and something was being dragged out of it."
Police arrived on the scene and saw men with the ATM on the ground. They were trying to load it into a white van.
Robber hiding
They drove off leaving the ATM behind. Their van was found abandoned later that day.
McGrath had tried to hide in a neighbouring garden but was discovered covered in cuts caused by barbed wire.
McGrath, from Liverpool, also pleaded guilty to failing to turn up for a trial diet on 14 January 2010.
Jailing him, judge Lady Stacey told McGrath: "You attempted to steal an ATM machine. A strange attempt with a forklift truck."