Two more Royal Alexandra Hospital norovirus patients die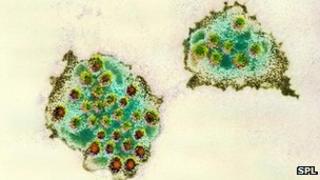 Another two patients being treated for diarrhoea and vomiting at a hospital in the west of Scotland have died.
It brings the number of deaths among patients with norovirus symptoms at the Royal Alexandra Hospital in Paisley in the past week to six.
NHS Greater Glasgow and Clyde said the latest deaths were not caused by the bug and the patients had serious underlying medical conditions.
The infection has led to the closure of several hospital wards across Scotland.
The Health Protection Scotland agency has begun an evaluation of the preparedness and management for norovirus across Scotland.
Of the previous four deaths, norovirus was only identified as a contributory factory in one case.
The health board said seven wards at the Royal Alexandra Hospital remain closed to new admissions.
Consultant microbiologist Dr Teresa Inkster said: "We are seeing an increase in cases coming into the hospital from the community where we know there are more cases than usual of diarrhoea and vomiting.
"People can help limit the spread of the virus by ensuring good hand hygiene at all times and if they have concerns contacting their GP or NHS24 for advice."
A spokeswoman added: "We do not believe the situation in Paisley to be unusual. As we have emphasized many times these are seriously ill and very frail patients with serious underlying medical conditions."
Earlier, Scotland's top doctor reassured the public that cases of the potentially fatal norovirus were falling .
Chief medical officer Sir Harry Burns told BBC Scotland the "vast majority" of people with the norovirus would recover.
He said: "Where people are ill due to other reasons, then the stress of having this virus can be the final straw and, regrettably, that's what we've seen with one or two cases."