Scott Kerr admits Christmas night out rape and sex assault in Glasgow city centre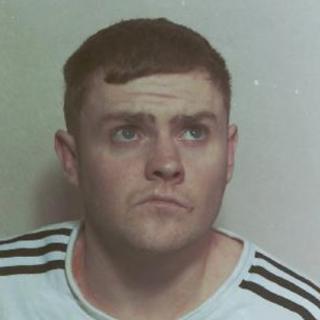 A man has admitted raping one woman and seriously sexually assaulting another in Glasgow city centre.
Call centre worker, Scott Kerr, 22, from Dundee, was on a Christmas works night out when he attacked the women.
The offences took place 15 minutes apart in James Watt Street, close to Broomielaw, on 21 December last year.
At the High Court in Glasgow, judge Lady Stacey told Kerr he was a public danger and ordered a risk assessment before sentencing him next month.
The court heard how Kerr knocked his first victim to the ground, pushed her onto her back and repeatedly attempted to pull down her underwear with intent to rape her.
Death threat
Minutes later he forced his second victim down a ramp, threatened to kill her, forced her to the ground and raped her.
The court heard that his rape victim was on the phone to a male friend when Kerr attacked her.
The horrified friend heard Kerr say to the woman in a clear and calm voice that if she screamed he would kill her.
Both of the attacks, captured on CCTV, were on two young women, who were complete strangers to Kerr and who were walking home from Christmas nights out.
Advocate depute Gillian Wade, prosecuting, took the unusual step of playing explicit footage which showed part of the sex attack on Kerr's second victim to judge Lady Stacey.
Ms Wade said: "The accused was identified after CCTV images of the perpetrator were shown on the evening news on 21 December last year."
The court heard that a number of Kerr's work colleagues at Weatherseal phoned police and Kerr handed himself in to a police station in Dundee, although he claimed he knew nothing about either sex attack.
Kerr, who originally comes from East Kilbride, South Lanarkshire, was working and living in Dundee, but had returned to Glasgow for a conference and Christmas night out.
He and friends went to a strip club and then he walked off while they returned to their hotel. They tried to phone him, but got no reply.
The court heard that prior to the attacks Kerr was caught on camera hanging around James Watt Street for about 40 minutes.
Victim dragged
His first victim was a 20-year-old woman walking home from a night out.
When he saw her walking down the street at 03:55 he immediately crossed towards her and walked past her.
Ms Wade said: "The accused then turns and runs down the street after her. He can be seen on CCTV huckling her off the pavement and into the car park of the Atlantic Quay building.
"The woman fell to the ground and was then dragged further into the car park. She struggled and screamed and tried to get her boots off to use as a weapon."
After the attack the victim, who was "hysterical", flagged down a passing taxi driver.
The second attack on a 22-year-old woman happened 15 minutes later.
This woman was also returning home after a Christmas night out when Kerr tried to engage her in conversation.
The woman walked past him and he began following her. As she reached the entrance to the BT building, Kerr grabbed her by the shoulders and pushed her into the ramp. She screamed and he threatened to kill her.
The friend she had been speaking to on the phone hung up, then called her number in the hope of attracting passers-by to her plight. However, the mobile was on silent.
The woman was crying and sobbing as Kerr dragged her further down the ramp before raping her.
'No recollection'
He then walked off and arrived back at his hotel later that morning.
When Kerr was questioned by police he said he had handed himself in "to get himself out of the picture," and added it was not in his nature to do something like that.
Defence QC Robert Anthony said: "He now wholly accepts it was him, although he has no recollection of committing these offences.
"He pleaded guilty at the earliest opportunity. He was keen to ensure that these young ladies did not have to relive what must have been a nightmare for them."
He said his client had expressed remorse for what happened.
Judge Lady Stacey deferred sentence until next month for background reports and a risk assessment, telling Kerr: "It seems that you are a danger to the public."
Kerr has never served a custodial sentence and has only one previous conviction, for drink-driving.
Det Ch Insp Stevie Grant, of Strathclyde Police, said: "A team of highly experienced detectives and uniform officers worked around the clock on this inquiry to secure the apprehension of the man responsible of attacks that sickened the people of Glasgow and indeed Scotland alike.
"Through the dedication of these officers, release of CCTV footage and help from members of the public, we were able to track down Scott Kerr and I hope that today's guilty plea can be of some comfort to the victims and their families."