Man who changed Scots legal system Peter Cadder free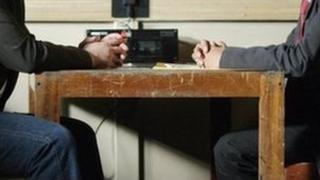 A man whose appeal changed the Scottish legal system has walked free from court after a re-trial collapsed.
Peter Cadder, 21, was found guilty in 2009 of assault over an incident in Glasgow in May 2007.
The UK Supreme Court later upheld his appeal, ruling his human rights had been infringed as he was interviewed by police without a solicitor present.
Proceedings were raised again last year but the Crown has now withdrawn the charges against Mr Cadder.
The 21-year-old was found guilty at Glasgow Sheriff Court in 2009 of assaulting Liam Tracey and his father John and committing a breach of the peace in May 2007.
Mr Cadder's appeal was eventually upheld in a landmark ruling by the UK Supreme Court in 2010.
Cases abandoned
Judges said the established police practice in Scotland of interviewing suspects without a solicitor present infringed their human rights.
In light of that ruling, 867 cases were abandoned, including 60 serious cases, nine of which were High Court cases.
Of the nine abandoned High Court cases, five include rape allegations and one involved a firearms offence.
Following the successful appeal, Scottish police could no longer question suspects without allowing them access to a lawyer.
Until then suspects could be questioned for six hours without a lawyer present.
The Crown raised proceedings against Mr Cadder again last year.
His retrial collapsed, however, when it called at Glasgow Sheriff Court.
After hearing evidence from Liam Tracey, the Crown withdrew the charges against Mr Cadder.
Mr Tracey initially told the court that he had seen what happened to his father and was able to identify the person who attacked him.
Under cross-examination, however, he admitted to advocate Paul Brown that he had given evidence based on what he had been told.
He said he could not remember exactly what happened in Carmyle, in Glasgow's east end, on the day he was attacked and could not identify the attacker.
Essential witness
Procurator fiscal depute Bernard Ablett told the court: "The Crown case relies on evidence of two Crown witnesses, Liam Tracey who has given evidence and his father, John Tracey.
"The Crown requires to lead evidence from both witnesses in relation to what they saw or heard on the day libelled.
"Liam Tracey is an essential witness in the case and without his evidence identifying the attacker of his father and also of himself the Crown cannot proceed."
Through his lawyer Michelle McGarrity, Mr Cadder made a comment as he walked free from court.
The statement said: "Mr Cadder is satisfied that this was the correct course of action.
"Having been subject to these proceedings, in one form or another, for a period of approximately five years, his desire now is simply to move on with his life."